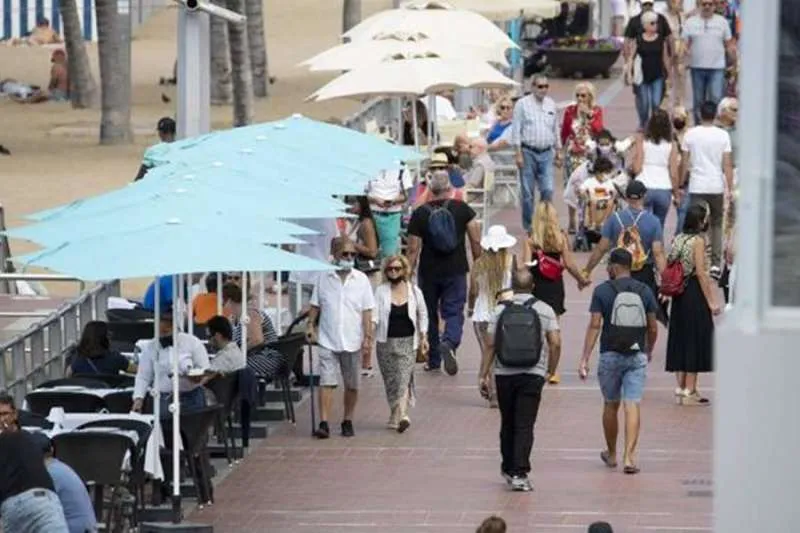 Covid update: The Canary Islands add 578 new cases and two deaths in the last 24 hours
After a tragic day yesterday (Sunday), which saw 16 Covid related deaths, the second-highest number recorded in one day in the Canary Islands since the pandemic began, the islands have added 578 new infections and two deaths in the last 24 hours, taking the accumulated number of cases to 264,561 in the archipelago, of which 104,876 are still active, according to the latest data from the Ministry of Health.
One of the deaths took place in Gran Canaria and was an 88-year-old man with previous pathologies and already admitted to hospital. The other one occurred in Fuerteventura, although it is a case pending validation by the General Directorate of Public Health.
Currently, there are 81 Covid patients seriously ill in ICU, while 581 are admitted to wards. The incidence rates have dropped again and the IA7 in the Canary Islands now stands at 294.68 cases per 100,000 inhabitants, and the IA14 at 799.05 cases per 100,000 inhabitants.
Data for Monday 7th February 2022:
(updates are against yesterday's figures)
New cases: 578
Gran Canaria: 279
Tenerife: 221
Fuerteventura: 33
Lanzarote: 31
La Gomera: 7
La Palma: 5
El Hierro: 2
Current Incidence rate (IA7): 294.68
(Cases last 7 days: 6,413)
El Hierro: 986.81
La Palma: 667.40
Fuerteventura: 410.08
Gran Canaria: 337.92
La Gomera: 290.62
Tenerife: 214.95
Lanzarote: 195.11
Current Incidence rate (IA14): 799.05
(Cases last 14 days: 17,270)
El Hierro: 2,655.42
La Palma: 1,685.88
Fuerteventura: 967.16
Gran Canaria: 916.17
La Gomera: 673.49
Tenerife: 612.96
Lanzarote: 545.53
General:
Covid patients in hospital: 581 (+3)
Covid patients in ICU: 81 (-1)
Home isolation: 104,214
R number: 0.64 (needs to be below 1)
PCR test positivity rate: 17.92% (should be below 4.5%)

Vaccination: (No update today)
Total administered: 4,195,202
Fully vaccinated: 1,713,213 people (81.67%)
One dose: 1,824,764 people (86.99%)
Children aged 5-11: 67,635 (49.40%)
Booster doses: 787,147

Deaths last 24 hours: 2
Gran Canaria: 1 (522)
Fuerteventura: 1 (28)
Total deaths: 1,474

Medical Discharges in last 24 hours: 740
Tenerife: 207
La Palma: 178
Lanzarote: 166
Gran Canaria: 147
El Hierro: 20
La Gomera: 21
Fuerteventura: 1

Total Active cases per island:
Total: 104,876
Tenerife: 49,054 (+14)
Gran Canaria: 45,485 (+131)
Fuerteventura: 6,866 (+31)
Lanzarote: 2,809 (-135)
La Palma: 485 (-172)
El Hierro: 102 (-18)
La Gomera: 75 (-14)
Municipalities with most active cases in each island:
32,979 in Las Palmas (Gran Canaria)
21,888 in Santa Cruz (Tenerife)
9,204 in La Laguna (Tenerife)
3,659 in Telde (Gran Canaria)
3,371 in Puerto del Rosario (Fuerteventura)
2,166 in Arona (Tenerife)
2,109 in Adeje (Tenerife)
1,915 in Arrecife (Lanzarote)
1,818 in Granadilla de Abona (Tenerife)
1,691 in Santa Lucia de Tirajana (Gran Canaria)
1,631 in San Bartolomé de Tirajana (Gran Canaria)
1,378 in Puerto de La Cruz (Tenerife)
1,161 in La Oliva (Fuerteventura)
726 in Guia de Isora (Tenerife)
457 in San Miguel de Abona (Tenerife)
455 in Mogán (Gran Canaria)
142 in Santiago del Teide (Tenerife)
(Please note this is not all municipalities, it represents the most infected and tourist areas)