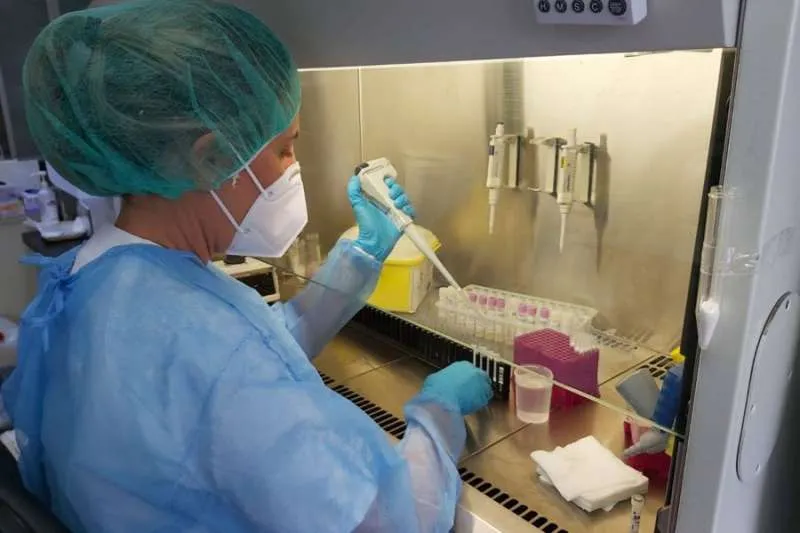 Covid update: New cases rebound to over 2,000 with five deaths
The spread of Covid is still not under control in the Canary Islands, particularly in Tenerife and Gran Canaria, as the number of new cases has jumped today to 2,063 in the last 24 hours. Although Gran Canaria has the most active cases, Tenerife had the highest number of new cases with 887 followed by Gran Canaria with 837. Fuerteventura was also in triple figures, but the decrease continues in Lanzarote where there are now less active cases than in La Palma.
In the last 24 hours, the death of five people between the ages of 81 and 91 years old has been reported. Three were registered in Gran Canaria, one in Tenerife and another in Lanzarote. All had previous pathologies and were already hospitalized.
'Stealth Omicron':
The Omicron variant of the coronavirus is still the most dominant in Spain and, according to the Ministry of Health, the BA.1 strain is the one found in the majority of samples processed. However, the BA.2 strain, known as 'stealth Omicron', is being detected in a growing percentage of cases, and the Canary Islands is the region with the most detected anywhere in Spain.
Stealth Omicron already accounts for 19% of the samples analysed in the week of February 7th to 13th, compared to 8.7% the week before, and according to the report on the coronavirus variants published yesterday by the Ministry of Health, the Canary Islands is, by far, the region where 'stealth omicron' is being detected the most.
To put it in context, the BA.2 strain has been detected in 19% of samples in the Canaries, followed by the Balearics with 9.8%, Galicia with 9.6%, then the Basque Country (7.2%), Catalonia (5.4%), Extremadura (3.7%), and Andalusia (3.2%).
This new strain is only a little more contagious than the original Omicron, approx 5%, although at the moment there is no data to show that it is more harmful or that it warrants a higher vaccine response.
According to WHO calculations, the BA.2 strain, is on average 84% more transmissible than BA.1, and is already dominant in China, India, Denmark, Pakistan, and the Philippines. Regarding the level of severity of BA.2 infections, the WHO concludes that cases of this strain are associated with a stagnation in the number of hospitalizations.
Data for Tuesday 22nd February 2022:
(updates are against yesterday's figures)
New cases: 2,063
Tenerife: 887
Gran Canaria: 837
Fuerteventura: 154
Lanzarote: 84
La Palma: 75
La Gomera: 20
El Hierro: 6
Current Incidence rate (IA7): 305.02
(Cases last 7 days: 6,637)
Fuerteventura: 458.52
La Palma: 371.44
Gran Canaria: 322.38
El Hierro: 278.10
Tenerife: 387.64
La Gomera: 262.94
Lanzarote: 167.51
Current Incidence rate (IA14): 560.35
(Cases last 14 days: 12,122)
El Hierro: 807.39
La Palma: 777.64
Fuerteventura: 757.53
Gran Canaria: 610.62
La Gomera: 572.01
Tenerife: 503.01
Lanzarote: 338.87
General:
Covid patients in hospital: 324 (-16)
Covid patients in ICU: 49 (-4)
Home isolation: 16,033
R number: 0.87 (needs to be below 1)
PCR test positivity rate: 20.31% (should be below 4.5%)

Vaccination: (No update today)
Total administered: 4,258,113
Fully vaccinated: 1,734,551 people (82.69%)
One dose: 1,830,435 people (87.26%)
Children aged 5-11: 69,089 first dose and 11.2% second dose.
Booster doses: 823,176

Deaths last 24 hours: 5
Gran Canaria: 3 (563)
Tenerife: 1 (859)
Lanzarote: 1 (68)
Total deaths: 1,559

Medical Discharges in last 24 hours: 1,419
Tenerife: 618
Gran Canaria: 470
Lanzarote: 173
Fuerteventura: 91
La Palma: 59
El Hierro: 7
La Gomera: 1

Total active cases per island:
Total: 16,406
Gran Canaria: 7,853 (+364)
Tenerife: 6,476 (+268)
Fuerteventura: 1,347 (+63)
La Palma: 330 (+16)
Lanzarote: 294 (-90)
La Gomera: 81 (+19)
El Hierro: 25 (-1)
Municipalities with most active cases in each island:
5,657 in Las Palmas (Gran Canaria)
3,260 in Santa Cruz (Tenerife)
1,173 in La Laguna (Tenerife)
913 in Puerto del Rosario (Fuerteventura)
511 in Telde (Gran Canaria)
369 in San Bartolomé de Tirajana (Gran Canaria)
331 in Adeje (Tenerife)
313 in Santa Lucia de Tirajana (Gran Canaria)
252 in Arona (Tenerife)
224 in Granadilla de Abona (Tenerife)
223 in Arrecife (Lanzarote)
154 in La Oliva (Fuerteventura)
153 in Puerto de La Cruz (Tenerife)
110 in Guia de Isora (Tenerife)
105 in Mogán (Gran Canaria)
39 in San Miguel de Abona (Tenerife)
36 in Santiago del Teide (Tenerife)
(Please note this is not all municipalities, it represents the most infected and tourist areas)