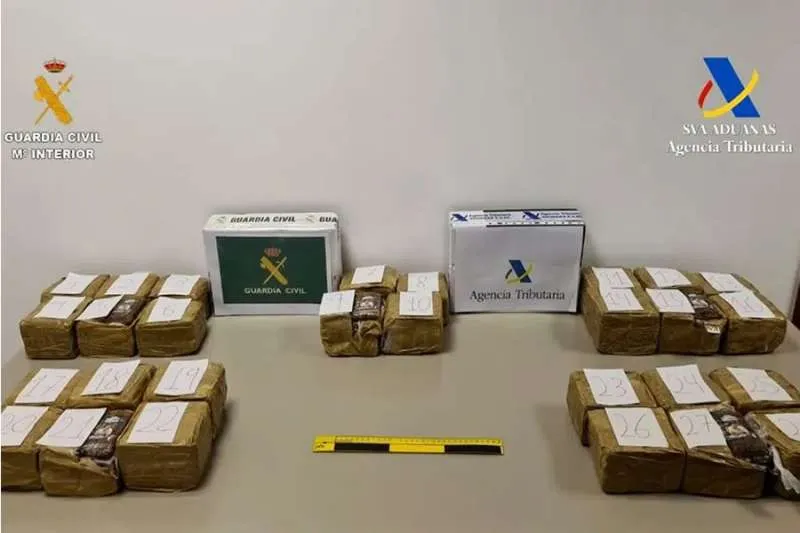 Couple caught with 30 kilos of hashish on their way to Tenerife by ferry
A 32-year-old man and a 26-year-old woman have been arrested at the Port of La Luz in Las Palmas, after trying to board a ferry to Tenerife with 30 kilos of hashish hidden in the boot of their rent-a-car. According to the Guardia Civil, the couple were 'betrayed by their nerves' as their disposition led to a search of the vehicle.
The incident took place at a control point set up by the Guardia Civil and Customs Surveillance Service of the Tax Agency, specifically for checking vehicles boarding ferries, where they analyse the behaviour of passengers, who are elusive and nervous.
When this happens, a more thorough inspection of the vehicle is carried out, and in this case, it resulted in them finding five vacuum-packed bags hidden in the spare wheel compartment under the boot carpet, that were wrapped in brown packing tape, which made the agents suspect that it could be some type of drug.
After opening one of the packages, they found various brown resinous pills which narcotics tests confirmed to be hashish. In total, 30 kilograms of hashish pollen were seized, split into six packages of five kilos each, leading the officers to immediately arrest the couple for a crime against public health.
The detainees, together with the seized drugs, have been made available to the judicial authority; while the Guard Court of Las Palmas de Gran Canaria has ordered the admission of both to preventive detention.