Adeje will celebrate Corpus Christi with its traditional 'Salt Carpets'
The Adeje Council are preparing to start one of the most emblematic celebrations in the municipality, Corpus Christi. This annual event brings together numerous groups from the area that create the traditional salt carpets, which will adorn the streets with works of art that last for just a few hours.
Beyond its religious meaning, Corpus Christi has become one of the most popular traditional festivities for the people of Adeje. It is an opportunity to celebrate and preserve traditions and encourage citizen participation in a cultural event of great importance.
Work is scheduled to start on these multicoloured tapestries next Saturday evening (June 10th), weather permitting, and will continue through the night so that by dawn on Sunday, the streets of Adeje will be alive with the brightly coloured creations.
Creating the salt carpets requires careful planning and precise coordination between the participants. Every detail counts, the design, the colours, and the shapes. Everyone involved will contribute their talent and creativity which will captivate locals and visitors.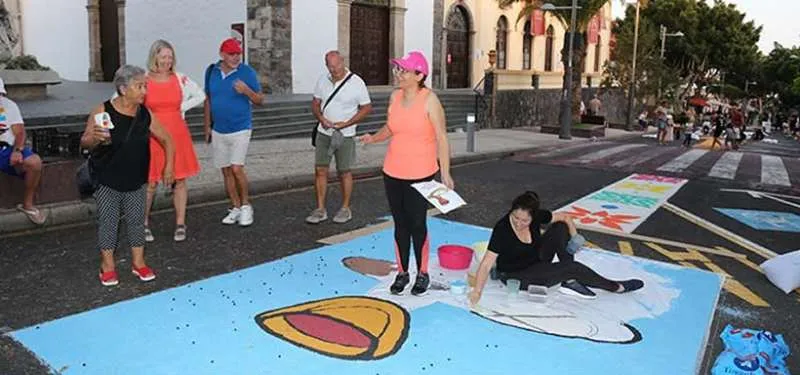 Next Sunday will begin with a solemn Eucharist in the parish of Santa Úrsula at 11:00am in honour of Corpus Christi. Next, the procession of the Santísimo Sacramento (Blessed Sacrament) will take place through the carpeted streets, where the local authorities and the Villa de Adeje Musical Board Band will accompany it.
Corpus Christi in Adeje is an expression of local identity and culture. The streets carpeted with salt are a reflection of the effort and dedication of a community that unites around a deep-rooted tradition, leaving an artistic and spiritual legacy in every corner of the municipality.
This year, the number of people that have decided to participate in this initiative has increased significantly compared to previous editions. This growth demonstrates the commitment of the Adeje community to preserve their traditions and the desire to be active participants in the cultural life of the municipality.
Other articles that may interest you...