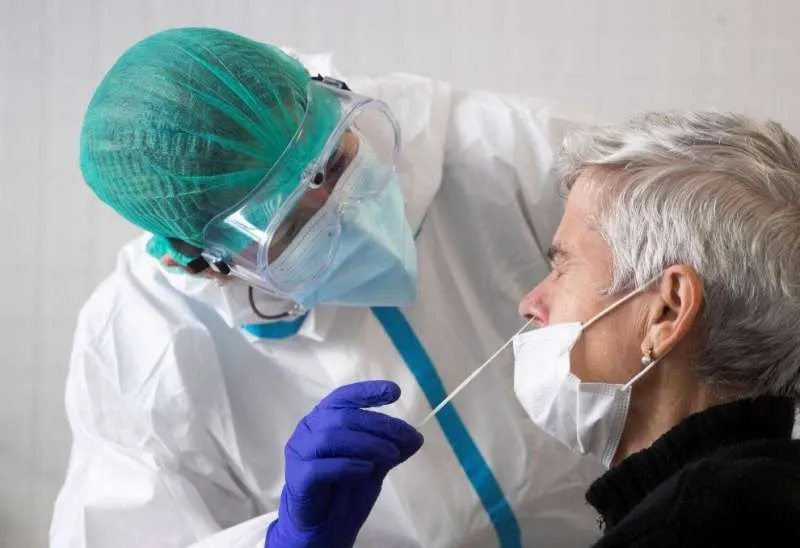 Active cases drop today with more people discharged than diagnosed for Covid
As always Monday's updates from the Ministry of Health see a lower figure than normal of new cases as it includes data from Sunday, but on this occasion a great positive is that there were more people discharged today (2,356) compared to those who have tested positive (2,102), meaning that active cases in the Canary Islands have reduced slightly.
Of the new cases, Gran Canaria has the most with 1,190 followed by Tenerife with 538, Lanzarote with 172, and Fuerteventura with 141.
The islands have also reported 10 more deaths in the last 24 hours, five in Tenerife, four in Gran Canaria, and one in La Palma, bringing the total to 1,283 fatalities since the start of the pandemic.
The deceased were all aged between 64 and 96 years old, five were men and five were women. All presented previous pathologies and were hospitalised due to Covid.
There has also been a vaccination update today that shows 59,431 children aged 5-11 years old have had their first jab, which is 43% of the target population. Also, over 615,000 people have now had their booster jabs as extra protection against Covid.
Data for Monday 17th January 2022:
(updates are against yesterday's figures)
New cases: 2,102
Gran Canaria: 1,190
Tenerife: 538
Lanzarote: 172
Fuerteventura: 141
El Hierro: 25
La Palma: 22
La Gomera: 14
Current Incidence rate (IA7): 1,561.06
(Cases last 7 days: 33,968)
La Palma: 2,289.77
El Hierro: 2,018.48
Lanzarote: 1,695.63
Tenerife: 1,589.27
Gran Canaria: 1,480.74
Fuerteventura: 1,317.94
La Gomera: 853.40
Current Incidence rate (IA14): 2,872.12
(Cases last 14 days: 62,084)
La Palma: 3,922.93
El Hierro: 3,274.42
Lanzarote: 3,223.76
Tenerife: 2,933.65
Gran Canaria: 2,696.37
Fuerteventura: 2,608.33
La Gomera: 1,845.19
General:
Covid patients in hospital: 526 (+15)
Covid patients in ICU: 84 (+5)
Home isolation: 87,788
R number: 1.09 (needs to be below 1)
PCR test positivity rate: 36.36% (should be below 4.5%)

Vaccination:
Total administered: 3,987,564
Fully vaccinated: 1,701,674 people (81.12%)
One dose: 1,808,150 people (86.20%)
Children aged 5-11: 59,431 (43.41%)
Booster doses: 615,903

Deaths last 24 hours: 10
Tenerife: 5 (733)
Gran Canaria: 4 (432)
La Palma: 1 (26)
Total deaths: 1,283

Medical Discharges in last 24 hours: 2,356
Tenerife: 1,044
Gran Canaria: 745
La Palma: 264
Lanzarote: 145
Fuerteventura: 97
La Gomera: 53
El Hierro: 8

Total Active cases per island:
Total: 88,398
Tenerife: 42,186 (-511)
Gran Canaria: 32,834 (+441)
Lanzarote: 6,285 (+27)
Fuerteventura: 4,818 (+44)
La Palma: 1,835 (-243)
El Hierro: 239 (+17)
La Gomera: 201 (-39)
Municipalities with most active cases in each island:
23,647 in Las Palmas (Gran Canaria)
18,017 in Santa Cruz (Tenerife)
8,067 in La Laguna (Tenerife)
3,940 in Arrecife (Lanzarote)
2,776 in Telde (Gran Canaria)
2,278 in Puerto del Rosario (Fuerteventura)
1,837 in Arona (Tenerife)
1,646 in Adeje (Tenerife)
1,627 in Granadilla de Abona (Tenerife)
1,264 in Puerto de La Cruz (Tenerife)
1,204 in San Bartolomé de Tirajana (Gran Canaria)
1,135 in Santa Lucia de Tirajana (Gran Canaria)
894 in La Oliva (Fuerteventura)
617 in Guia de Isora (Tenerife)
409 in Mogán (Gran Canaria)
402 in San Miguel de Abona (Tenerife)
155 in Santiago del Teide (Tenerife)
(Please note this is not all municipalities, it represents the most infected and tourist areas)