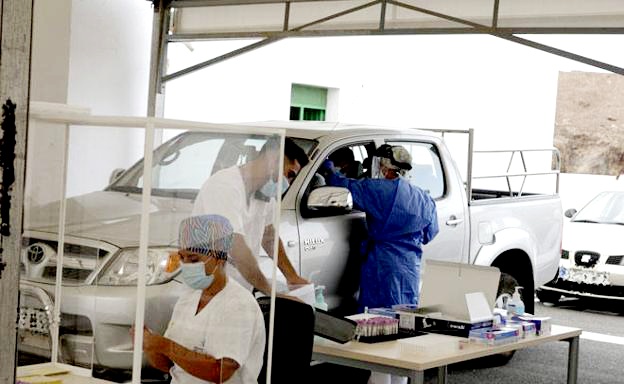 Lanzarote is set to move to Level 3 restrictions
The Lanzarote Cabildo and the seven city councils will officially ask the Government of the Canary Islands to assess whether the island goes to alert Level 3, as an immediate measure to face the high spread of Covid-19 on the island detected in the last days. The demand is expected to be addressed in the Governing Council meeting tomorrow (Thursday), as announced by the island president, María Dolores Corujo, in a press conference yesterday afternoon.
She said that "the current situation is more worrying than that reached during the summer, and unfortunately, we haven't reached the peak yet which will probably occur at the end of the month, when the contagions caused by excesses over the Christmas holidays will surface."
In addition, the Lanzarote president emphasized that the coronavirus is having a special impact on those over 65, especially in the municipalities of Arrecife, Tías, San Bartolomé and Yaiza.
Corujo also alluded to the fact that there are currently 17 people hospitalized on the island, 14 in wards and 3 in ICU, which represents an occupation of 47% of the beds enabled for less serious patients and 30% in the places for more serious patients; with the risk of getting worse in the next week or so. To prepare for the increases, the management of the Doctor José Molina Orosa Hospital is already working to have another 47 beds ready for Covid-19 patients.
At the expense of seeing what the Government decides, the Cabildo and the town councils have decided to apply severe restrictions in areas of their competence. In this order, among other aspects, it has been decided to close parks, sports facilities and cultural centres; and the same has been marked in terms of socio-cultural centres.
Other articles that may interest you...
In addition, it has been decided to prohibit visits to nursing homes for the elderly and entry to centres for minors and similar facilities is restricted. Public transport may continue to operate with a maximum capacity of 50% and entrances to cemeteries are limited. The decision to limit capacity in shopping centres or private sports spaces, is up to the Government.
Finally Corujo reported that the contagion values ​​in the seven municipalities in the last fourteen days are especially serious in Tías, with 466 incidents per 100,000 inhabitants, two thirds which affect the elderly. In Arrecife and San Bartolomé the figures are 257 and 244 infections per 100,000 people respectively, also with a very high impact among the older population. Teguise reached a contagion level of 170 cases per 100,000 residents yesterday; Yaiza was at 115, Tinajo at 64 and Haría at 39.