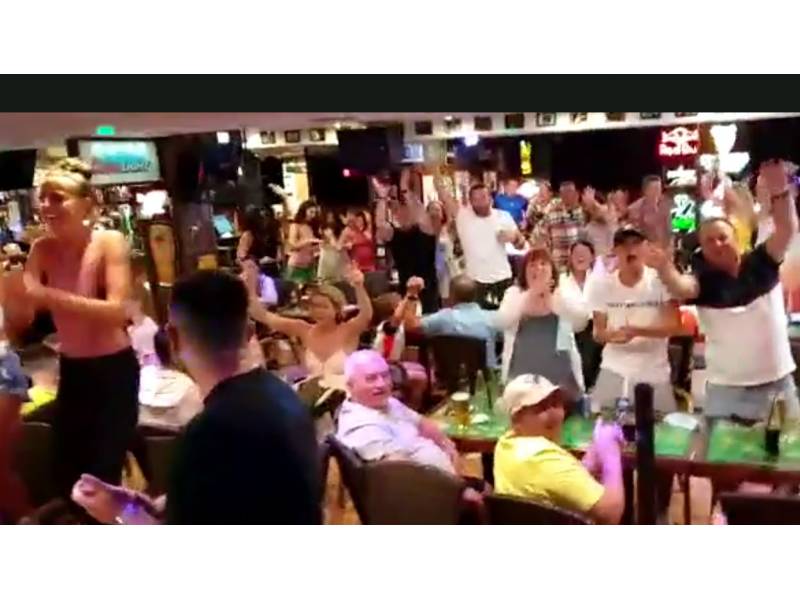 Images of foreign tourists partying in a bar are posted on politicians facebook page
Since tourists have started coming back to the Canary Islands, there have been images and videos all over social media of bars, clubs, boat parties, and gatherings that blatantly flout alert level restrictions and rules of social distancing, use of masks, group sizes and activities that lead to interaction. Although there may be some confusion regarding the TSJC and level 4 restrictions in Tenerife, pending appeal, the rest are clear cut.
Last week we saw a club/fun pub in Lanzarote that was allowed to be open in Level 1, but was denounced for repeatedly ignoring capacity, distancing and mask rules, and has now been sanctioned for a fine between 60,001 and 600,000 euros.
We also saw how Correlejo was closed off with police blocks, as neither bar owners nor could the police control the volume of partygoers in the plaza of the town who were out in force before the island went to Level 3 on Monday.
Even in Tenerife, which is at the highest level of health alert, there have been videos of various boat parties and gatherings with DJs and people dancing, mixing, no separation and no masks shared around social media as a sign of 'returning to normality'.
However, last night videos and images of a bar in Puerto del Carmen in Lanzarote were posted on the Facebook page of a councillor of the Coalición Canarias political party in Tías, where there were hundreds of foreign tourists (mostly British) of all ages packed in a bar with no masks, safety distances, dancing on chairs and mixing with each other. Which although we all want to enjoy ourselves, is still not permitted.
The Councillor responded in a way that many didn't expect by saying: "The hospitality sector and nightlife are not the culprits of this situation as everyone is trying to comply with the due responsibilities to the maximum, but obviously there are exceptions," explains the councillor.
"They send me this video from last night, and I do not blame the person in charge of the venue as it is difficult to stop people enjoying themselves on holiday, especially from the UK where they have less restrictions than here. I blame the administration for not using the Local Police or Guardia Civil to prevent this from happening," he reflects.
However, whether or not you agree, this type of situation is being repeated throughout the Canary Islands at a time when tourism is beginning to arrive in the middle of the fifth wave of Covid-19 with the islands as a whole at high risk, and unless it is controlled, will continue to affect the archipelago for much longer than we all want.