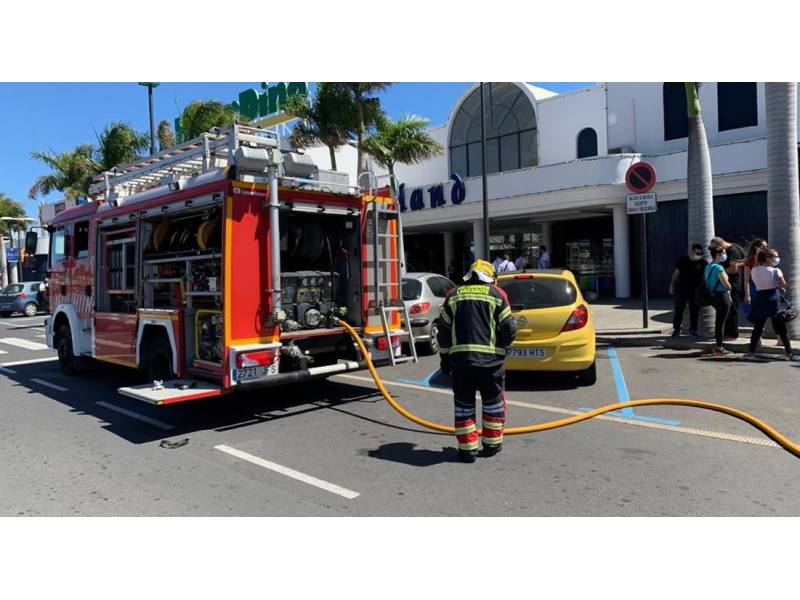 Fire in a Lanzarote shopping centre leaves three people injured
A fire broke out yesterday afternoon (Monday) at Burger King in the Deiland shopping centre in Playa Honda in Lanzarote, which led to the evacuation of the centre and has left three people injured and hospitalised, after starting in the kitchen at fast food restaurant.
As confirmed by Emergency Services, the fire originated in a Burger King fryer, but spread throughout the kitchen, affecting the rest of the fryers, as well as the false ceiling and the electrical installation of the premises that melted due to the high temperatures.
In addition, the fire caused a large amount of smoke that spread throughout the shopping centre and three men had to be assisted for smoke inhalation and burns by paramedics, and were transferred by ambulance to the Molina Orosa Hospital in Arrecife.
At 4:10pm the fire had already been extinguished, but firefighters were still ventilating thecommercial centre, which was flooded with smoke. In fact, Deiland decided to close the whole centre to the public until later today (Tuesday), when it is expected that the affected area will be cleaned and painted.
As for the Burger King, it is not expected to be open for a longer time, as it has a fair bit of damage, and needs to be renovated and passed by safety officials.
Emergency Services have released details of the three people injured, who are a 30-year-old man who is suffering from smoke inhalation, first degree burns to his face and upper limbs of a moderate nature; a 31-year-old man who had severe smoke inhalation; and a 39-year-old man who presented mild smoke inhalation; all transferred by basic life support ambulance from the SUC to the Doctor José Molina Orosa Hospital.