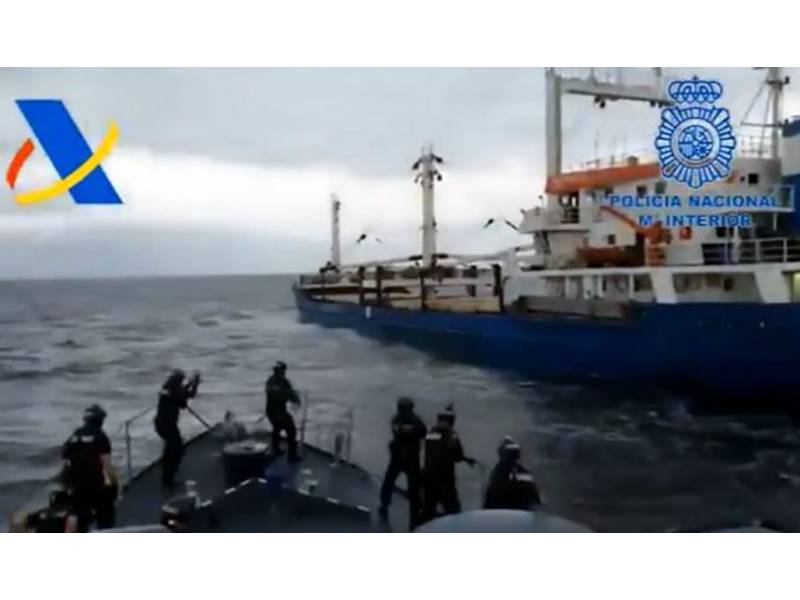 VIDEO: Customs storm a sinking ship with 20 tons of hashish onboard in Canary waters
A joint investigation by the National Police and the Tax Agency has led to the interception of a merchant ship loaded with almost 20 tons of hashish, 40 miles from Fuerteventura. After boarding the vessel, and arresting the 11 Syrian crew members, the officers realised that the ship was actually sinking due to large leaks in the engine room and deficiencies with the motors.
The Palau-flagged ship was the subject of an investigation by the Customs Surveillance of the Tax Agency and the National Police under the name Operacion 'Natalia', in collaboration with the French customs services DNRED.
After detecting the ship in close proximity to the Canary Islands, it was decided to urgently intercept and board it, so two patrol boats of the Customs Surveillance Service, the 'Sacre' and the 'Halcón', set out on Saturday night in search of their target, which they approached in the early hours of Sunday morning, 40 miles southeast of Fuerteventura, in international waters.
Así interceptamos un buque cargado con 20 toneladas de #hachís en aguas cercanas a #Canarias

El mercante corría un riesgo serio de hundimiento debido a su mal estado y sus 11 tripulantes han sido detenidos pic.twitter.com/APFgjmlNCr

— Policía Nacional (@policia) August 10, 2021
Once the ship was controlled and secured by the Customs Surveillance team, they set about saving the boat and sealing the leaks to stop it from taking on more water, before making sure the engines could last the journey to the port of Las Palmas, where they arrived on Sunday night.
Throughout yesterday, Customs officials and agents of the National Police searched the ship and uncovered 638 bales of hashish hidden in its cargo bay among its regular load, weighing 19,876 kilos, which is another highly relevant cache intercepted this year in waters near the Canary Islands.
The 11 detained crew members will be brought before the National Court in the next few hours, while both the Port Authority and the Maritime Captaincy of the Port of Las Palmas have taken charge of the damaged ship, assisted by the Customs Surveillance officials, in order to prevent it sinking.
By the way... this is what 20 tonnes of Hashish looks like!
Other articles that may interest you...