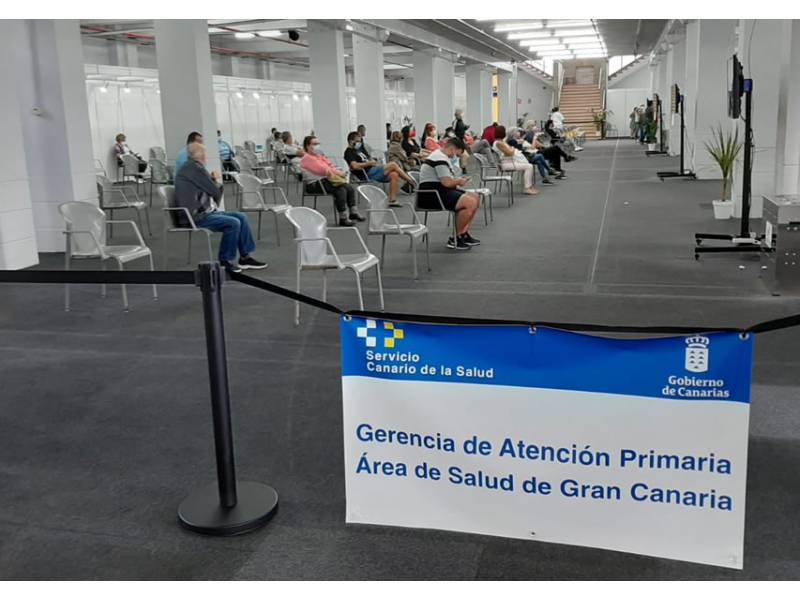 Covid update: 694 new cases and 3 more deaths today in the Canaries
The upward trend is continuing in the Canary Islands and daily cases are growing at a rapid rate with almost 700 new cases in the archipelago today. Tenerife is the island with the most again with 382 new cases, Gran Canaria has 226, Fuerteventura 49, Lanzarote 21, there are 12 in la Palma, 3 in El Hierro, and 1 in La Gomera.
The Ministry of Health is requesting that anyone who was at the Habana Club in the Torviscas area of Adeje on December 7th, contacts the local health authority on 900 112 061 after an outbreak of 19 people so far, many of them teenagers, has been discovered by track and trace.
This call has been made after a 'concert' at the club which has now seen outbreaks amongst attendees in a local school 6th form and the La Laguna University, and the club is facing legal action for ignoring rules against social distancing, use of masks, no dancing, or collecting data of clients, which is a decree-law for nightlife venues.
Vaccination:
The SCS has informed that they have now administered over 3.5 million doses of Covid vaccines, including 273,000 booster ones to people over 60 and those who had Janssen the first time around. They are hoping to start with anyone over 40 in the next week or so at the main mass vaccination centres to get as much coverage against the omicron variant as soon as possible.
Data for Tuesday 14th December 2021:
(updates are against yesterday's figures)
New cases: 694
Tenerife: 382
Gran Canaria: 226
Fuerteventura: 49
Lanzarote: 21
La Palma: 12
El Hierro: 3
La Gomera: 1
Current Incidence rate (IA7): 163.33
(Cases last 7 days: 3,555)
Fuerteventura: 308.19
Tenerife: 175.96
Gran Canaria: 149.38
Lanzarote: 115.52
La Palma: 83.87
El Hierro: 71.77
La Gomera: 69.19
Current Incidence rate (IA14): 286.31
(Cases last 14 days: 6,230)
Fuerteventura: 568.77
Gran Canaria: 283.57
Tenerife: 280.31
Lanzarote: 220.78
La Palma: 172.54
La Gomera: 110.71
El Hierro: 71.77
General:
Covid patients in hospital: 251 (-7)
Covid patients in ICU: 51 (+3)
Home isolation: 7,368
R number: 1.01(needs to be below 1)
PCR test positivity rate: 10.22% (should be below 4.5%)


Deaths last 24 hours: 3
Tenerife: 2 (601)
Gran Canaria: 1 (370)
Total deaths: 1,071

Vaccination: (No update today)
Total administered: 3,509,217
Fully vaccinated: 1,697,746 people (86.59%)
One dose: 1,709,034 people (87.16%)
Booster doses: 273,488
Target: 1,960,774 (population over 12 years old)

Medical Discharges in last 24 hours: 269
Gran Canaria: 142
Tenerife: 93
Lanzarote: 26
La Palma: 7
La Gomera: 1
Fuerteventura: 0
El Hierro: 0


Total Active cases per island:
Total: 7,670
Tenerife: 3,371 (+287)
Gran Canaria: 3,063 (+83)
Fuerteventura: 872 (+49)
Lanzarote: 234 (-5)
La Palma: 98 (+5)
La Gomera: 23 (-)
El Hierro: 9 (+3)

Municipalities with most active cases in each island:
2,593 in Las Palmas (Gran Canaria)
1,764 in Santa Cruz (Tenerife)
691 in La Laguna (Tenerife)
479 in Puerto del Rosario (Fuerteventura)
294 in La Oliva (Fuerteventura)
212 in Arona (Tenerife)
199 in Arrecife (Lanzarote)
158 in Adeje (Tenerife)
128 in Granadilla de Abona (Tenerife)
124 in San Bartolomé de Tirajana (Gran Canaria)
103 in Santa Lucia de Tirajana (Gran Canaria)
92 in Telde (Gran Canaria)
69 in Puerto de La Cruz (Tenerife)
41 in Guia de Isora (Tenerife)
15 in San Miguel de Abona (Tenerife)
14 in Mogán (Gran Canaria)
9 in Santiago del Teide (Tenerife)
(Please note this is not all municipalities, it represents the most infected and tourist areas)