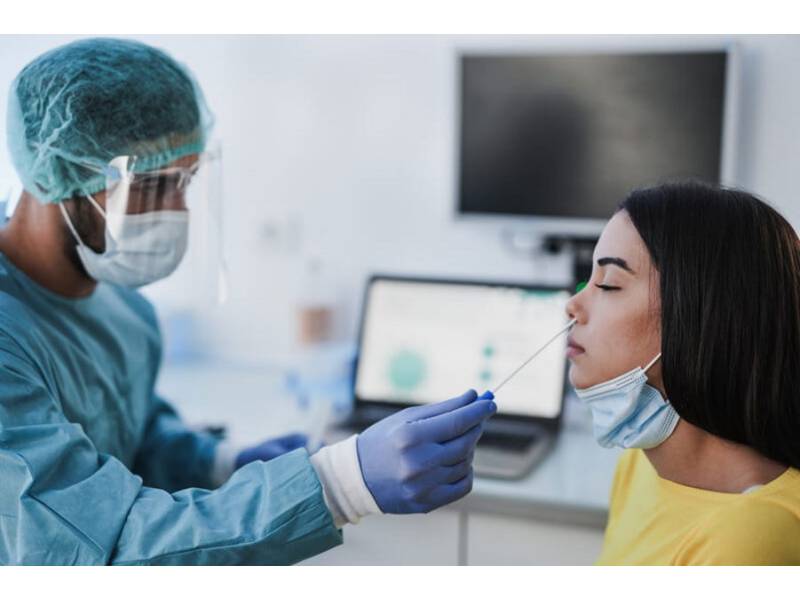 Covid update: The festive period ends with 6 more deaths and 2,343 new cases
The Canary Islands have ended the first week of January and the festive period with 2,343 new cases of coronavirus in the last 24 hours. The figures have followed an expected trend with yesterday being the biggest bank holiday of the year, with a lower number of new infections registered, but a huge number of medical discharges today, with 2,114.
However, this morning there has been an increase in hospital admissions, an increase in ICU admissions, and the death of six people has been reported: five women aged 60, 71, 72, 96, and 96 years old in Tenerife, and a 91-year-old man in Gran Canaria. All were admitted to hospital and, except for the male who was associated with a social outbreak, the rest had previous pathologies.
With schools starting back on Monday, the Public Health Commission, has announced today that classes will only go into isolation when 5 students, or more than 20% of students, test positive for Covid, with the aim of guaranteeing consistency in teaching.
This means that quarantine is recommended for the entire class whenever there are 5 or more cases of active infection in a classroom, or when 20% or more of the students in the class are affected in a period equal to or less than 7 days.
This change is adapted to the current pandemic situation and reflects the important advance in vaccination in all age groups, and takes into account that school environments have proven throughout the pandemic to be safe environments in terms of virus transmission.
Data for Friday 7th January 2022:
(updates are against yesterday's figures)
New cases: 2,343
Gran Canaria: 964
Tenerife: 849
Lanzarote: 261
Fuerteventura: 220
La Gomera: 23
El Hierro: 16
La Palma: 10
Current Incidence rate (IA7): 1,071,76
(Cases last 7 days: 23,321)
Lanzarote: 1,398.48
La Palma: 1,392.32
El Hierro: 1,130.35
Tenerife: 1,080.55
Gran Canaria: 998.11
Fuerteventura: 931.25
La Gomera: 747.30
Current Incidence rate (IA14): 2,202.25
(Cases last 14 days: 47,756)
Tenerife: 2,515.93
Lanzarote: 2,387.49
La Palma: 2,241.85
El Hierro: 2,000.54
Gran Canaria: 1,931.10
La Gomera: 1,835.96
Fuerteventura: 1,517.56
General:
Covid patients in hospital: 459 (+29)
Covid patients in ICU: 65 (+5)
Home isolation: 58,284
R number: 1.37 (needs to be below 1)
PCR test positivity rate: 35.76% (should be below 4.5%)

Vaccination:
Total administered: 3,851,676
Fully vaccinated: 1,692,817 people (80.70%)
One dose: 1,784,605 people (85.08%)
Children aged 5-11: 47,042 (34.36%)
Booster doses: 514,049

Deaths last 24 hours: 6
Tenerife: 5 (667)
Gran Canaria: 1 (410)
Total deaths: 1,184

Medical Discharges in last 24 hours: 2,114
Tenerife: 1,164
Gran Canaria: 548
La Palma: 242
Fuerteventura: 67
La Gomera: 61
El Hierro: 20
Lanzarote: 12

Total Active cases per island:
Total: 58,808
Tenerife: 30,311 (-320)
Gran Canaria: 19,821 (+415)
Lanzarote: 3,790 (+249)
Fuerteventura: 3,041 (+153)
La Palma: 1,494 (-232)
La Gomera: 169 (-38)
El Hierro: 182 (-4)


Municipalities with most active cases in each island:
14,743 in Las Palmas (Gran Canaria)
13,244 in Santa Cruz (Tenerife)
6,062 in La Laguna (Tenerife)
2,476 in Arrecife (Lanzarote)
1,548 in Telde (Gran Canaria)
1,403 in Puerto del Rosario (Fuerteventura)
1,223 in Arona (Tenerife)
991 in Granadilla de Abona (Tenerife)
971 in Adeje (Tenerife)
939 in Puerto de La Cruz (Tenerife)
814 in La Oliva (Fuerteventura)
724 in San Bartolomé de Tirajana (Gran Canaria)
695 in Santa Lucia de Tirajana (Gran Canaria)
388 in Guia de Isora (Tenerife)
230 in Mogán (Gran Canaria)
198 in San Miguel de Abona (Tenerife)
89 in Santiago del Teide (Tenerife)
(Please note this is not all municipalities, it represents the most infected and tourist areas)