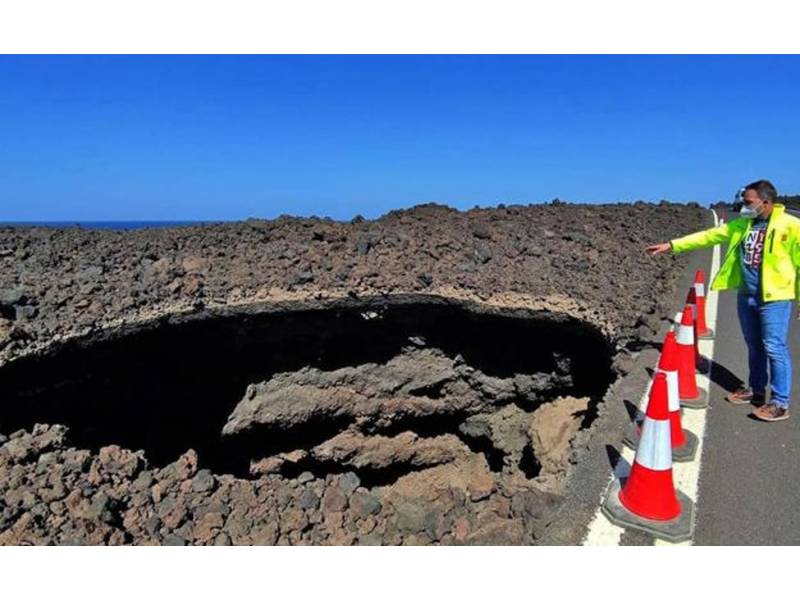 Cabildo agrees to repair sinkholes on Los Hervideros highway in Lanzarote
The Cabildo de Lanzarote has signed the emergency declaration for the "imminent execution" of the repair works on the LZ-703 that connects Las Breñas with El Golfo, specifically known as the Los Hervideros highway in the area. The work to repair the road is expected to cost upwards of a million euros.
After several landslides that took place on February 15th, which caused a huge sinkhole by the side of the road, the Cabildo decided to close the road to avoid possible accidents. "It should be noted that this section of road, which runs through the Los Volcanes Natural Park, borders the sea and constitutes one of the most visited tourist attractions in Lanzarote," the Corporation said in a press statement.
The president of the Cabildo, María Dolores Corujo, accompanied by the Minister of Public Works, Jacobo Medina, and several technicians from the island council, visited the area today (Friday), where "various studies with specialized companies are already being carried out to properly analyze the damage."
"A geotechnical study is being carried out on this road, as well as a maritime study to analyze possible solutions, and another for the stabilization of the slopes affected by the action of the sea," explained the councillor.
In addition, she stressed that "this road sits on a very erodible volcanic lava flow, so storms from the northwest make the coastline recede, in such a way that at some point the road will need to be moved further from the coast". In particular, the intervention will be carried out on the road itself, by the company Hormigones Insulares SL, with the implementation of fixtures to defend against the waves, and to stabilize the slope.