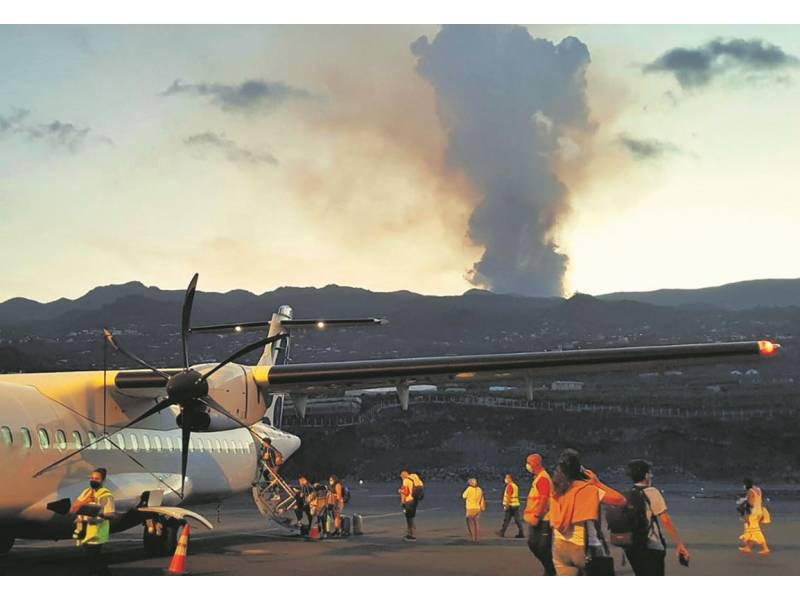 La Palma airport suffers the effects of the volcano again
The current meteorological conditions have been declared "unfavourable conditions for air travel from the point of view of air quality" according to Pevolca last night because the height of the thermal inversion has decreased from 1,200 to 900 metres, and there is an increase in stability at low levels of the atmosphere to which is added the prevailing winds on the west coast which is affecting the operation of the La Palma airport.
Yesterday afternoon the 'ash rain' was especially intense in several locations on the island such as El Paso and Los Llanos de Aridane, and the forecasts have led Binter and CanaryFly to suspend all their flights to and from La Palma scheduled for today.
María José Blanco from the IGN explained that at higher levels (between 1,500 and 5,000 metres), the wind was expected to turn south-southwest and this will push the cloud of ash and sulphur dioxide in a southwesterly direction, northeast from the main eruption. "Therefore, the slopes most affected by the ash fall will be the eastern and northern slopes of the Island, and the foreseen arrangement of the ash cloud may also affect the operation La Palma Airport," he said.
The air quality surveillance network on the island has been reinforced with the addition of two new stations in Los Llanos and El Paso. In addition, certain pollutants indicative of air quality have been monitored, with special attention to sulphur dioxide at levels where it is breathed and particles smaller than 10 microns (PM10), the main pollutants emitted by the volcano.
In the meantime, TUI have cancelled any flights to La Palma for the next two weeks as a precautionary measure from Holland, Germany, and other European destinations.
Other articles that may interest you...