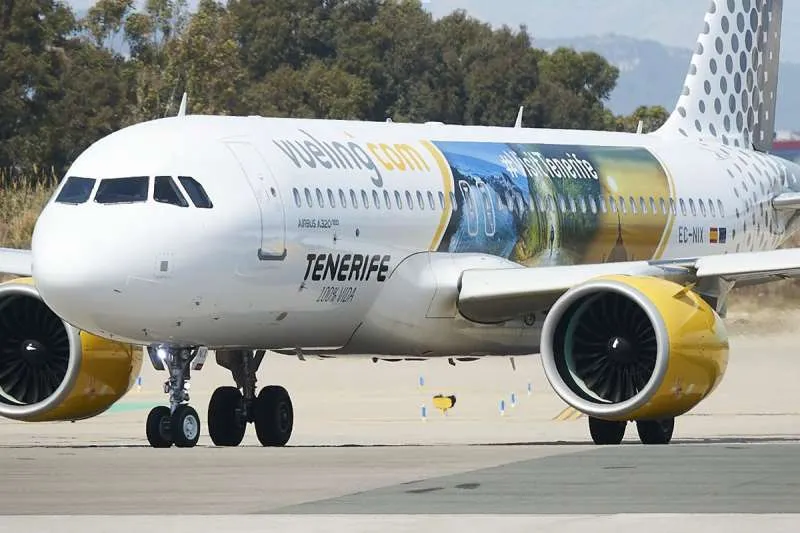 Vueling cancels 54 flights on the first day of the cabin crew strike
Spanish airline, Vueling, cancelled 54 flights yesterday (Tuesday), to reduce the impact on the first day of the cabin crew strike called by Stavla, the majority union among Vueling staff.
The company plans to operate around 90% of their flights during the strike, and yesterday achieved this with 466 of the scheduled 520 operating normally, with a punctuality rate of 94%, according to a press release.
All passengers affected by flight cancellations are being notified in advance and different alternatives are being made available to them in order to minimize the impact on their trips.
Vueling ensures that they have been given the option of taking another flight, another alternative means of transport (in the case of internal flights), or a refund of their ticket, claiming that so far 90% of the affected passengers have found a satisfactory solution.
Customers can check the status of their flight online at www.vuelingnews.com and access their reservation to obtain information on their new flight and/or manage the available alternatives, subject to seat availability, or ticket refund.
Vueling have also appealed to the responsibility of the Stavla union to call off the strikes and commit to more negotiations to make an agreement on wage demands.
Airline workers want a 13.4% increase in wages this year to combat the cost of living crisis, and are striking as the airline has refused to meet their demands. According to Stavla, the strike will take place every Friday, Sunday, and Monday between yesterday and 31st January 2023, as well as all public holidays and December 24th and 31st, and January 5th.
Vueling has defended that "this is not the time to divide but to join forces to build the future of the airline". They consider that the salary increases demanded by Stavla are "unreasonable" because they would mean the loss of competitiveness of Vueling and could imply a reduction in the size of the company and a reorganization of their structure, including layoffs.
The company says that they have already agreed to increase both the fixed and variable wages of cabin crew by 6.5% effective from 1st January 2021, and will back pay the corresponding arrears.
During the last two years, the aviation sector has faced the biggest crisis in its history which has led the company to accumulated losses of more than a billion euros and an additional debt of 260 million euros.
Other articles that may interest you...