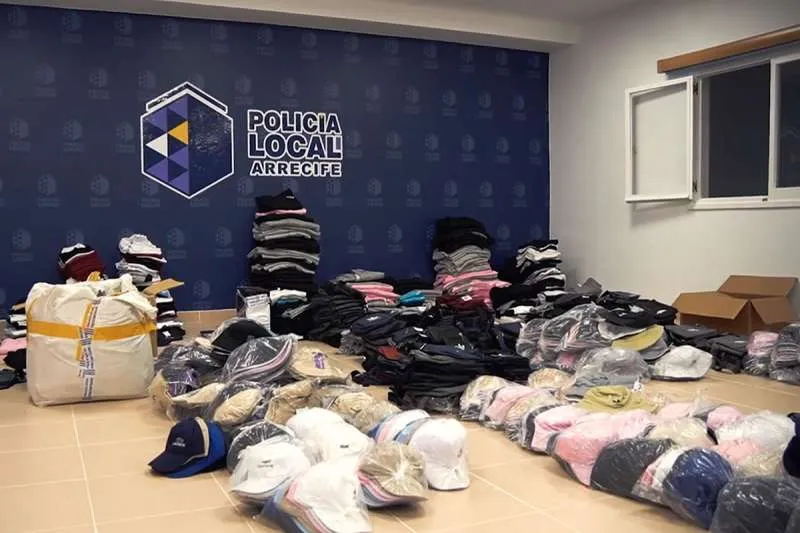 VIDEO: Police raid a workshop printing and embroidering counterfeit items
The Local Police have sealed a workshop in Lanzarote and seized counterfeit items worth an estimated 600,000 euros that were destined for shops around the Canary Islands.
During the inspection of the premises on Calle Usaje in Arrecife, they disabled six industrial machines used for printing and embroidering garments, confiscated more than 11,000 thermo-adhesive transfers of logos of renowned brands used to make the counterfeits, and seized PCs used to make the designs.
They also found more than 3,600 items, including polo shirts, t-shirts, sweatshirts, shorts, caps, hats, shoulder bags, and backpacks, as well as 537 spools of thread used to embroider false logos on caps. There was also a large number of goods of the same type stored for the preparation of new counterfeits that were still sealed.
According to the police report, a total of twenty brands have been affected by the counterfeiting. The person responsible for the activity has been arrested and passed to the judicial authorities, along with all the seized material, accused of a crime against industrial property, and may face penalties of one to four years in prison, a fine of twelve to twenty-four months, as well as compensation to the affected brands.
In addition to this incident, there was a second industrial copyright case in which local police officers from Arrecife seized 94 watches from renowned brands that were for sale at a stall in the street market in the Lanzarote Marina. After being examined, it was found that they were all fake, leading to them being seized.
Other articles that may interest you...