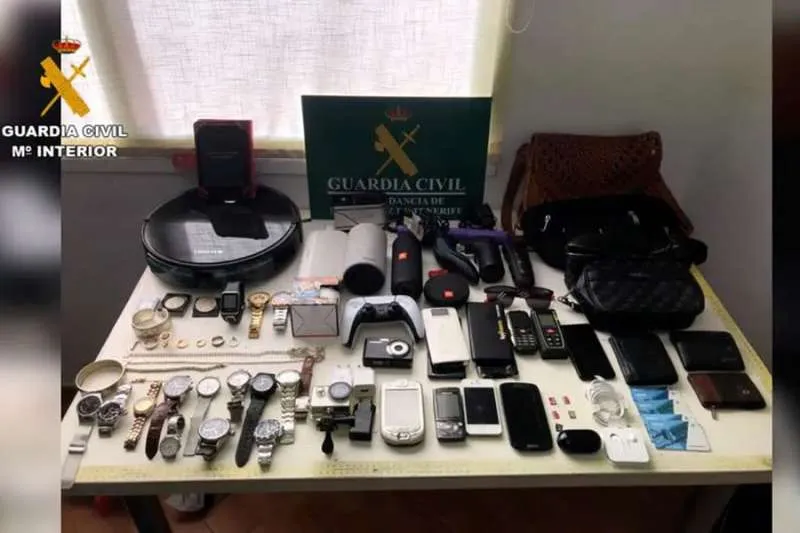 Two men arrested for 15 burglaries in tourist accommodation in the south of Tenerife
The Guardia Civil have arrested two Moroccan men who they have linked to more than fifteen robberies in hotels in the south of Tenerife, and in holiday homes in the Golf Del Sur area.
The robberies were concentrated around the road that runs between the towns of Los Abrigos and Amarilla Golf and were usually committed between 3:30am and 5:30am, in most cases with the residents asleep inside the properties, which they accessed by a ladder, according to the Guardia Civil report.
Among the items stolen in these robberies are mobile phones, watches, jewellery, and electronic devices such as tablets.
During the investigation, agents had various discreet surveillance teams in the affected areas where the hotel complexes and holiday homes are located, as well as control and identification points for people and vehicles passing through the area.
Once they felt they had gathered enough intel, the Guardia Civil requested a search warrant from the Granadilla court to enter an address where they knew one of the thieves was staying, and found, not only him, but a large number of items that were reported stolen.
Later, they pinpointed the whereabouts of the second man in a residential area nearby, and proceeded to arrest him for the same 15 robberies that they have clarified took place in 2021 and 2022.
After being arrested, the two detainees, together with the proceedings carried out, have been placed at the disposal of the Granadilla de Abona court of instruction, where they are awaiting trial.