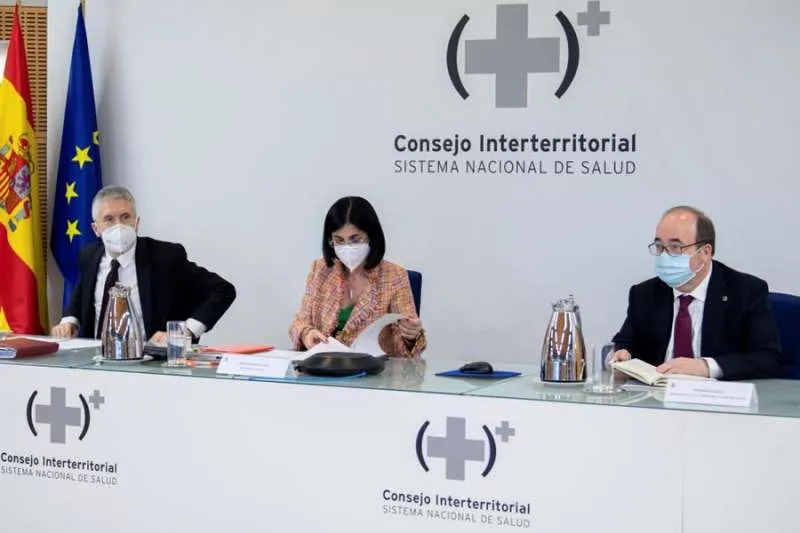 The Interterritorial Council debates the use of masks indoors today
The Interterritorial Council is made up of the Ministry of Health for Spain and representatives from all Health Services from every region of the country, who have made all of the major decisions collectively during the Covid pandemic. Today they are all meeting in Zaragoza in person, not remotely via zoom, and have several topics on the table for discussion, including when to lift the mandatory use of masks indoors.
Masks must still be worn indoors whether you are a resident, on holiday, in a shop, supermarket, bar, restaurant, although you, as a client, can take it off when eating and drinking, bar staff, waiters, chefs, shop assistants, anyone working indoors, must wear one by law.
It is the one restriction that people now want lifted, especially those that still have to wear one for several hours on end at work, and according to their schedule, a definitive proposal will be presented to the Interterritorial Council today.
There are health authorities from regions of Spain that are still reluctant to eliminate their use altogether and want a gradual and responsible withdrawal, and still want their use in hospitals, health centres, on public transport, and where there is food preparation for other people (eg chefs).
This is the case of Andalusia in the south of Spain, which includes the Costa del Sol, which requests for continued caution from people at least until the summer and says that although masks are no longer mandatory abroad, they still want them used in situations where there are crowds.
The president of the Andalusian Government, Juanma Moreno, said yesterday, "I would prefer that we take our time and don't act too quickly, we don't want to find that in spring and summer there is a very high level of incidence and we have to start limiting other things again."
On the contrary, Madrid has announced its intention to remove masks indoors, except in public transport, hospitals, health centres, and nursing homes.
As you can see, it is still a complex debate even at this stage of the pandemic, because so many different opinions are involved from different regions.
NEW STUDY SUPPORTS USE OF MASKS:
A recent study by the Ministry of Health supports the prolonged use of masks, stating that "vaccines alone are not enough to control the pandemic" and that other overlapping layers of measures are needed to guarantee the protection of the population to reduce deaths and the impact economical, which is why it advocates its maintenance for a short period of time, at least two weeks, after reaching vaccination targets.
Other articles that may interest you...