Pedro Sánchez is re-elected as Prime Minister after winning the vote in Congress
Pedro Sánchez was officially re-elected as the Prime Minister of Spain this afternoon (Thursday) after winning the vote in Congress with the support of 179 deputies, which represent 51.14% of the Lower House. By getting an absolute majority it will no longer be necessary to hold a second vote and he will be invested as the new President of the Government.
Specifically, Sánchez received the support of the 121 deputies of the PSOE, the 31 of Sumar, the seven of ERC, the seven of Junts, the six of Bildu, the five of the PNV, the BNG, and the Canary Coalition. The other 171 deputies of Congress voted against it, which are made up of the PP party, Vox, and the UPN.
When the result of the vote was announced, half of the Chamber burst into applause, the members of the Socialist Group shouted "President, President", and the opposition deputies left the chamber.
The leader of the PP, Alberto Núñez Feijóo, who won the election but couldn't form a coalition to become Prime Minister, was the first to congratulate Sanchez and shake hands. All the other leaders, except for Vox, have also congratulated him.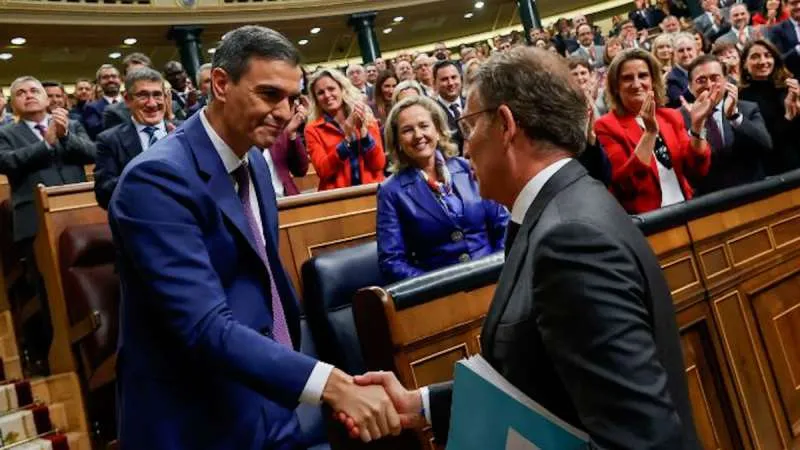 Before leaving the chamber, Sánchez wanted to greet each of the 120 PSOE deputies who supported him with kisses and hugs, as well as the Sumar representatives who came to congratulate him. In the guest gallery, the president's wife, Begoña Gómez, applauded excitedly.
After the vote, the president of Congress, Francina Armengol, adjourned the session, ending this second investiture debate of the legislature, which has involved more than twelve hours of debating.
Armengol will be in charge of communicating the result of the vote to the King so that the swearing-in ceremony can be organized in Zarzuela, which is scheduled for this Friday.
Other articles that may interest you...