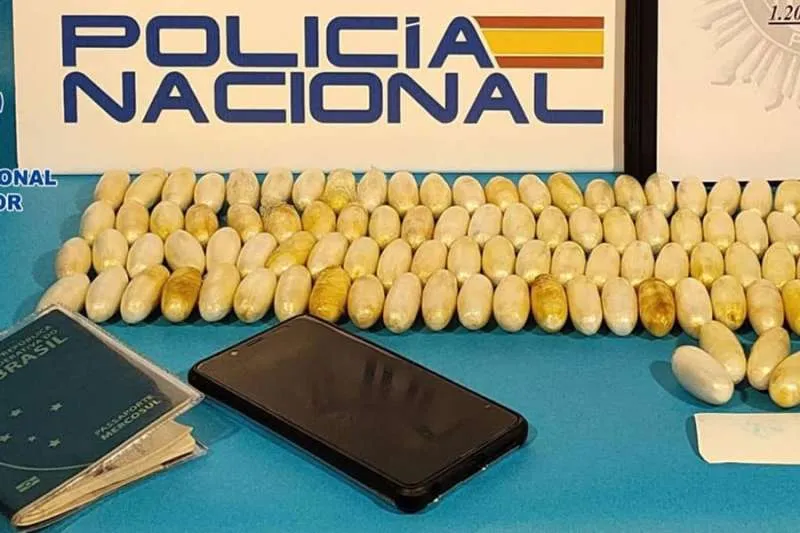 National Police arrest a 'drug mule' with 104 cocaine capsules in his stomach
The National Police have arrested a 48-year-old man at Lanzarote airport after he raised their suspicions when coming through border control after a flight from Madrid, and they found he was acting as a 'mule' carrying 104 capsules of cocaine inside his body after swallowing them before he travelled.
The arrest occurred after specialized agents of the National Police, who carry out regular checks on 'hot' flights (flights used as a regular route by mules trying to smuggle drugs) at the César Manrique airport in Lanzarote.
Because the man was acting suspiciously when they spoke to him, he was taken to the General Hospital of Lanzarote for a scan to verify if had swallowed drugs capsules or not.
After seeing the visible evidence, the process to remove the drugs was initiated as soon as possible before one had the chance to burst as this can be life-threatening, and 104 plastic capsules weighing 1.2kg with a street value of 72,000 euros were retrieved from his stomach.
After this, the 48-year-old Brazilian was arrested as the alleged perpetrator of a crime against public health, and placed at the disposal of the competent Judicial Authority, which ordered his immediate imprisonment.
This person is the ninth mule detained by agents of the National Police at the César Manrique airport in Lanzarote this year.
Other articles that may interest you...