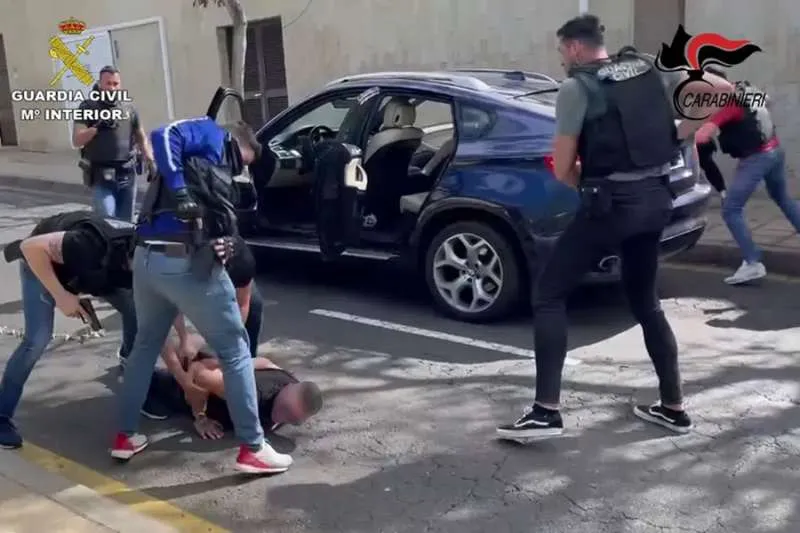 Man wanted for armed robbery and kidnapping arrested in the south of Tenerife
The Guardia Civil have arrested another wanted fugitive in Tenerife, this time in Playa de las Américas under the name of Operation Tricolore. The Italian authorities wanted a 38-year-old man for armed robbery, kidnapping, holding someone hostage, and extortion, in Bergamo just north of Milan back home in Italy.
This arrest is the culmination of an operation that began after information received by the UCO (Central Operational Unit) of the Guardia Civil from the Carabinieri de Bergamo police force in Italy.
They have carried out extensive surveillance of the criminal organization, which the man referred to as M.V. belonged to, in different parts of Italy, and arrested part of the group, but he managed to flee the country with false documentation in mid-2021, with the Canary Islands thought to be where he headed to.
After several weeks of searching, the investigation focused on the people closest to M.V., leading investigators to take different actions to corroborate possible counter-surveillance of those around them, which gave them a lead as the fugitive was forced to change his address as a security measure against being located.
Despite changes in his daily routines, the M.V. continued with a disproportionate pace of life, staying in a villa valued at more than €3,000,000 euros in one of the most exclusive areas of Playa de las Americas in the south of Tenerife.
With the circle around him tightening, agents located him at a new address, and after several days of intense and discreet surveillance, they proceeded to arrest him before handing him over to the Central Court of Instruction number 4 of the National High Court, where he is awaiting deportation back to Italy.
Other articles that may interest you...