MISSING: The search is still on for Scottish tourist Gary Watson
Today is a month since Scottish tourist, Gary Watson, arrived in Lanzarote for a holiday and disappeared without being seen again after having drinks in a local football bar in Puerto Del Carmen.
Since then, the Guardia Civil have requested the public's help to locate him, the bar he was last seen in (Bar 67) and his family have organised searches, but all to no avail as he is still missing.
Gary's sister, Michelle, told Canarian Weekly that she and her mother returned home from Lanzarote on Thursday after joining the search with 50 other people on March 31st, led by Bar 67 and another bar called Paddy's Point Emerald Isle, which unfortunately gave no results.
She said that her mother is at the end of her tether, but will return to the island soon as she refuses to give up the search for her son. There is added worry for the family with Gary missing as he suffers from epilepsy and Type 2 diabetes.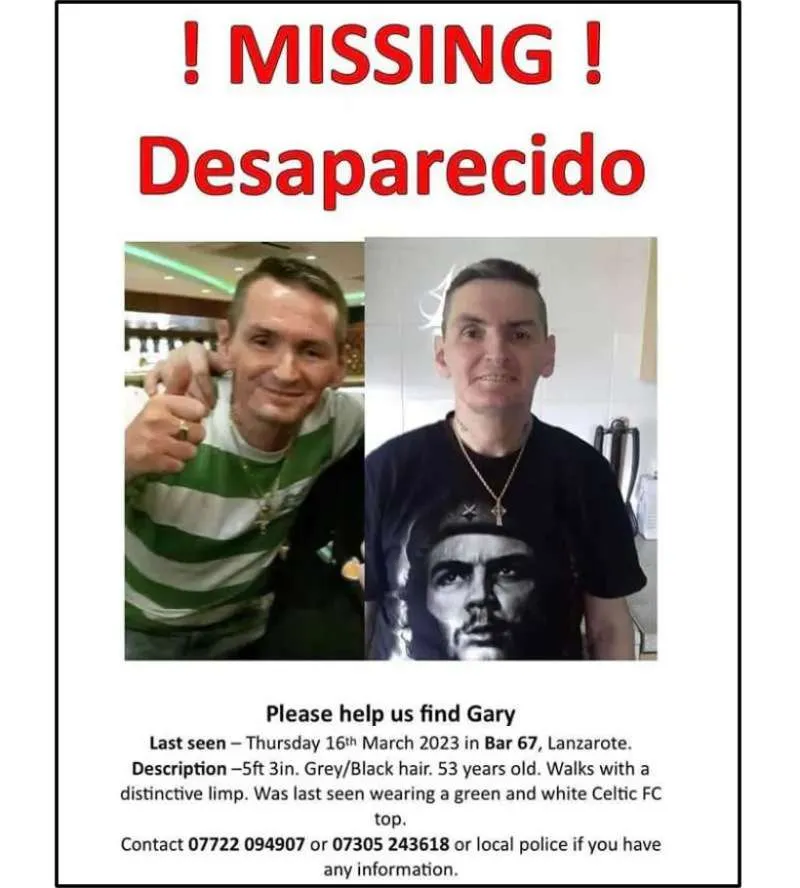 More missing posters have been distributed in Lanzarote.
The missing Scot came to Lanzarote to celebrate St Patricks Day, and after landing on the island, checked into the Oasis Apartments at around 5:00pm and then posted a photo of himself by the pool on Facebook and messaged his mum, before heading straight out to the well-known Celtic bar on the Puerto Del Carmen Strip.
Gary hasn't been seen since leaving the bar at around 11.30pm that night, Thursday March 16th, although a woman did come forward saying she saw a man, possibly Gary, lying unconscious in a doorway not far from Bar 67 between 11:30 -12:30, but didn't think anything of it.
At the time of his disappearance, he was wearing a green and white-striped Celtic football shirt, white shorts, and white trainers, is 1.60 metres tall (5ft 3"), has a thin complexion, short black and grey hair, and walks with a slight limp.
If you have any information whatsoever regarding Gary's whereabouts, please contact any of the numbers on the poster, the Guardia Civil on 062 or by email: gc-epjtias@guardiacivil.org, or contact us here at the Canarian Weekly.