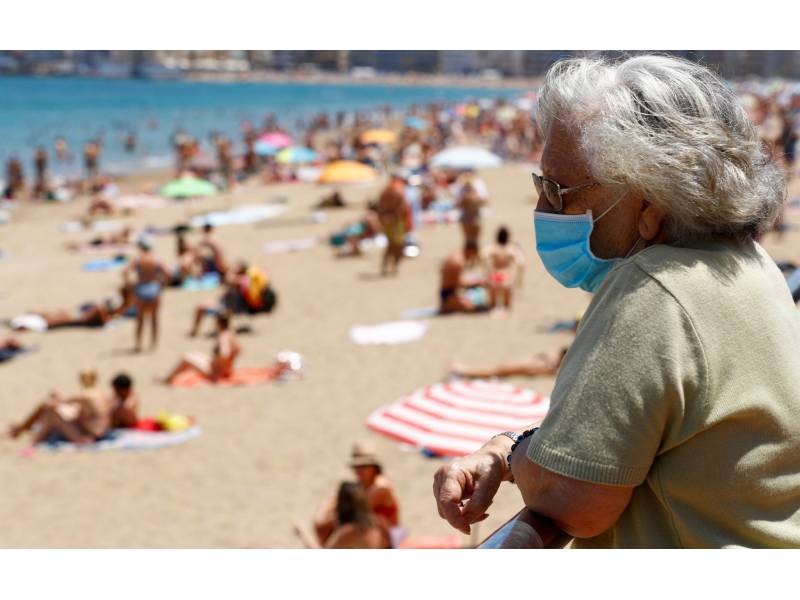 Lanzarote and Gran Canaria are now epicentre of the pandemic in the Canaries
Up until now Tenerife has been the epicentre of the second wave of the pandemic in the Canary Islands, but now the eastern islands, particularly Gran Canaria and Lanzarote ,are taking over. This is highlighted in the capitals of the two provinces, since Las Palmas has exceeded the IA7 of Santa Cruz in Tenerife for a week.
In fact, the capital of Tenerife has lowered the transmission indicators to a medium risk level, and yesterday presented a seven-day accumulated rate of 47.4 cases per 100,000 inhabitants and 105 over 14 days, compared to an IA7 of 98 and an IA14 of 172 in the capital of Gran Canaria.
Both indicators for Las Palmas de Gran Canaria fall into the high risk category, as well as the seven-day incidence for the population over 65 years of age, with 72 cases per 100,000 inhabitants. In addition to the capital, the towns of Gran Canaria where the cumulative incidence over seven days is at a high level of danger are Arucas, Gáldar, San Bartolomé de Tirajana, and Santa Brígida.
As for the rest of the Canarian municipalities, the worst infected are the Lanzarote towns of Arrecife, Tías and San Bartolomé, with very high risk transmission indicators and accumulated incidents in the last seven days of 350.8 cases per 100,000 inhabitants in Arrecife; of 312 in Tías, and of 233 in San Bartolomé, according to the daily report yesterday by Public Health.
All the municipalities of Lanzarote present high or very high risk indicators, except for Haría, which only registered one contagion in the last seven days.
Other articles that may interest you...
On the other hand, the Fuerteventura municipalities of La Oliva and Tuineje have also sounded the alarm and asked the population to take extra precautions against the coronavirus.
Specifically, according to the Public Health report, Tuineje has a seven-day cumulative incidence of 236 cases per 100,000 inhabitants, which indicates a very high level of risk, just like La Oliva, where this indicator stood at 146 cases yesterday per 100,000 inhabitants, due to the 39 absolute infections registered in the last seven days in the town.
The Governing Council meeting today will review the data and decide which level of alert to apply in each area from Monday.