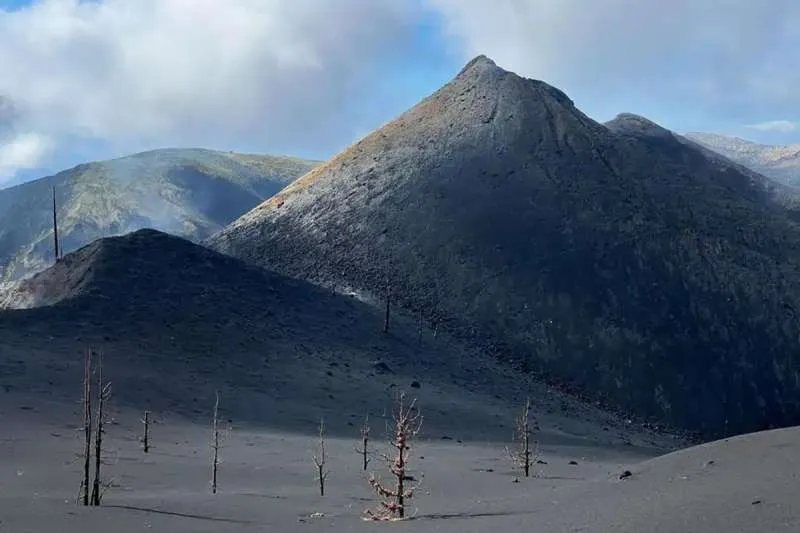 La Palma volcano photo in the final of a Sony competition was taken on a mobile phone
A resident of Mazo in La Palma was taken by surprise when, a month ago, the organisers of the Sony World Photography Awards, considered to be the most important photography competition in the world, confidentially informed him that he was one of the 15 finalists for 2023 with his image of the new volcano in Cumbre Vieja, that he snapped with his mobile phone.
David del Rosario, who took the photo last October while hiking in the Cabeza de Vaca area that ends at the volcanic cone, said: "In technical terms, it is not a very elaborate photograph because I only cropped it a little bit to frame it, but it does have good lighting and composition."
The man from Gran Canaria, who has lived in La Palma for 7 years, was selected in the landscape category of the competition, in which more than 415,000 images from all over the world were submitted. "I presented ten photographs as the registration required, but the one they selected I had included as filler."
David works as an environmental agent for the Caldera de Taburiente, but acknowledges that he has been able to expand his hobby by selling nature-based photographs: "I hope that with this recognition, I can work in the photography sector full time, which is quite complicated, but fortunately I have collaborations with councils and the media".
Now, his photograph, along with the rest of the finalists, will be part of a travelling exhibition that will go around the world and will be printed in the new edition of the Sony World Photography Awards book, which will dedicate an in-depth report about the Canarian photographer.
Through his work, David del Rosario wanted to highlight the spectacular nature of the La Palma volcano, but he also knows first-hand the tragedy that its eruption caused for the islanders who lived in the surrounding area:
"As an environmental agent, I was there to help with the emergency plan, helping residents to evacuate and abandon their homes. There were very strong emotions because people knew that their homes would be destroyed by lava, and we tried to calm their nerves and despair advising them to take their paperwork and as many valuable or sentimental objects with them that they could carry."
Other articles that may interest you...