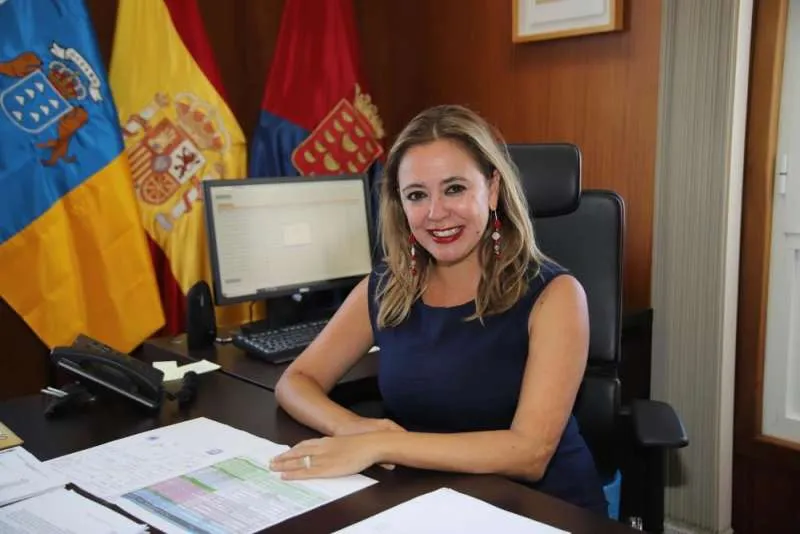 LANZAROTE: You have your say… and you're not happy!
Last week the president of the Lanzarote Cabildo, Maria Dolores Corujo, made statements about tourism that have angered British residents, tourists, business owners, and property owners who have their time and money invested in the island.
She said that Lanzarote had become saturated with tourists and that an island of 151,000 population couldn't sustain the 2.5 million annual visitors they are getting, 45% of which are from the UK.
As a result, she said that the aim of the local government should be to reduce the volume of British tourists in favour of higher-spending Europeans, particularly from France, Italy, and the Netherlands.
These comments, which have also been widely reported in the UK, have angered thousands of you, many of whom have emailed us with their views. Here is a small selection of the opinions you sent in:
"My husband & I, alongside our families, are completely appalled by the comments. We are due to visit for three weeks in May, we have already booked a private villa & hire car, but after her comment, we are seriously considering cancelling & going elsewhere."
Tanya Wellesley
"Being a frequent visitor to Lanzarote 2/3 times each year, I do find the comments offensive. If Lanzarote does indeed intend to follow this path, I feel it would have a detrimental effect on the local economy & push us Brits to other more welcoming islands and destinations."
Andrew Edge
"I love Lanzarote but think Cyprus will be number 1 on our holiday list now. We have been on holiday 15 times to Lanzo and always contributed to the local economy. I think she need to apologise to all the Brits who spend their hard-earned cash there."
Mike Hughes
"I will be putting my property on the market next week. We are going to relocate to Tenerife. We spend on average €20,000 a year in Lanzarote and I think Tenerife will appreciate my money more. Bye bye."
Tony McDougall
"We own two properties in Playa Blanca and were about to purchase a third effectively investing all of our savings in an island we love. To read the recent comments made about British tourists is both insulting and makes us think twice about our investments."
Andrew Dawson
"We are not all beer-swilling euro a pint drinkers!"
Christine Markham
"A quicker, cheaper and easier route to increasing spend in Lanzarote and the other islands, would be to provide a mechanism for existing second home owners to spend 6 months a year there as they did before Brexit!"
Malcolm Farrant
"I'm afraid these comments didn't go down very well with the 50 or so friends we know who love Lanzarote. I enjoy a so-called euro a pint, but I also enjoy a 10-euro cocktail! We all feel sad and will have to think hard about coming back as a lot of other places will want our custom."
Keith Bass
"I'm going on holiday to Lanzarote in March and was looking forward to it, but if that's the way I am looked at I am sorry now that I booked it."
Harry Burgess
"I have been on holiday to Lanzarote at least 10 times, and my family spend huge amounts of money in the best restaurants and most expensive hotels. After your comments we will never set foot again on Lanzarote."
Andrea Maclennan
"My outrage when I read these comments was off the charts. My partner and I were among the first to revisit once the island reopened, and vividly remember the joy of local business owners when they could get back on track financially. We have been coming to the island 3 times a year and are now seriously considering going elsewhere."
Edwin Neill
"My wife and I are coming to Lanzarote in March for the last time, after visiting twice a year for 30 years. We are going to Belize in October instead."
Stephen Martin
"I have recently booked a two-week holiday to your island arriving in March, however, if I had read this before making that booking, I would not have considered Lanzarote. I can certainly say that after my visit in March, I won't be returning."
P B Bradford
"I've been coming to Lanzarote for many years and tell people to try it. With this statement about not wanting so many UK tourists it feels like a slap in the face, everyone is upset about it as we feel like we are not welcome any more. There are plenty of other places to go and be welcomed."
Maggie Young
"Myself and my wife have holidayed in Lanzarote for the last 20 years normally 4 times a year, but we will now think twice about returning after our next two holidays. What she needs to remember is that my money is good at any holiday resort in the world, and if her island no longer wants it, that's fine by me."
Keith Morgan
A DIFFERENT POINT OF VIEW:
Although this is only a very small selection of emails received from disgruntled visitors to Lanzarote, there are people who agree with Corujo's comments, so it's only fair that we publish some of those too:
"I completely agree with the fact that there were too many British Tourists in Lanzarote. I visited the island for the first time on 22nd January 2022 and stayed for a week with my partner. The first two days we spent in the capital which was lovely, then stayed in Costa Teguise for two nights which was over developed but a good place to take children.
However, for the last 3 nights we moved to Puerto del Carmen, and although the hotel was lovely, we found the town horrible. Bar after bar offering English Breakfast and cheap beer, fat people covered in tattoos drinking alcohol all day long, it was a grim sight and not suitable for children. The craft shops were rubbish, all of them the same and all full of Chinese rubbish, except for two of them, there was no local craft on display. There needs to be a clamp down on these things so that the quality of tourism can change."
Jane Talbot
"My husband and I, aged 72 and 66 years old, and both British, have visited beautiful Lanzarote several times during the winter months. We always stay in the same quiet low key apartments Matagorda. We love it there because there are no bars or rowdy people. We too, despise those Brits that come on all-inclusive holidays, or hang out in English/Irish bars all day and want nothing but beer, chips, English breakfasts etc. Getting rid of those establishments that attract the noisy rowdy people would definitely help to improve the islands image. Those people would then prefer Turkey and Greece. Good riddance to them!"
Nikki Willerton
"I do think that it is unfortunate how the President worded her statement, but I also understand her motive. I am perfectly sure that she isn't asking the Brits to stay away, but she does want to up the image. Majorca had the same issue a few decades ago. They started to add a small levy when entering the island which was used to improve the infrastructure of the island and its image. At one time Majorca had the same problem as Lanzarote but managed to turn it around. Let's hope Lanzarote can do the same."
Wayne Chadwick
"We have just returned from a holiday in Lanzarote, we love the place and will surely return year after year. However, the president has made an error in not choosing her wording more carefully. If she wishes to make Lanzarote a more upmarket destination, then the island will need billions of euros of investment to do so. I saw three issues with the island as of January 2023.
- There are many unfinished housing/hotel developments that make the island look neglected.
- Most shops are selling a multitude of fake goods. This needs to be urgently addressed.
The airport is a shambles. Understaffed, poorly organised regarding holidaymakers, and not friendly towards those people with disability issues."
Andy Mc
A MESSAGE TO SRA. CORUJO:
This is just a snapshot of your opinions regarding this subject, and here at the Canarian Weekly, we have hundreds of emails from readers who have taken the time to contact us and express how they feel regarding the comments from the President of the Lanzarote Cabildo, the highest ranking politician on the island.
Sra. Corujo, we have sent a copy of this article to your office, and we invite you to respond to the thousands of Brits who are angered, offended, and even disgusted by your comments, and would like some clarification of what you said before it is too late and they go elsewhere for their annual holidays. We await your response.
Other articles that may interest you...