Fishing boat intercepted with 1,000 kilos of cocaine on board arrives in Lanzarote
The Customs Surveillance Service towed the fishing boat that its patrol boat Fulmar intercepted in the Atlantic on Friday, over 1,100 kilometres off Cape Verde, to the port of Arrecife in Lanzarote to unload the ton of cocaine it was found to be carrying.
The Mathieu fishing vessel entered Los Mármoles dock early yesterday morning, where the six crew members arrested during the operation were disembarked, and the illegal cargo was weighed. This confirmed that there were just over 1,000 kilograms of cocaine with a street value, after being cut, of 70 million euros, that had been stored on the stern deck of the fishing boat, stacked in 40 bundles.
The operation was carried out jointly with the Judicial Police of Portugal and in collaboration with the Spanish Navy and the United States Drug Enforcement Administration (DEA), which had alerted to the existence of an international criminal organization intending to transfer a large quantity of cocaine from one ship to another out at sea, as detailed by the Police and the Tax Agency on Thursday.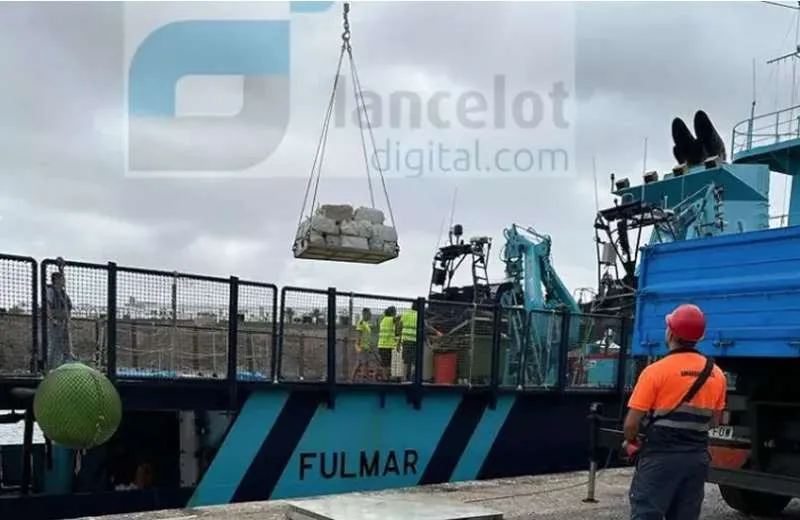 The information available to the investigators coincided with that possessed by the Portuguese anti-drug units. Therefore, a joint operation was established to track the transportation, in which the National Police coordinated with Customs Surveillance to locate the vessel.
The agents noticed that the vessel, registered in the port of Georgetown (Guyana), was sailing without a flag, so they requested confirmation of its registration in their country and authorization to transfer the ship to the nearest Spanish port from the Guyanese authorities. The six detainees are four Guyanese and two Albanian citizens.
Other articles that may interest you...