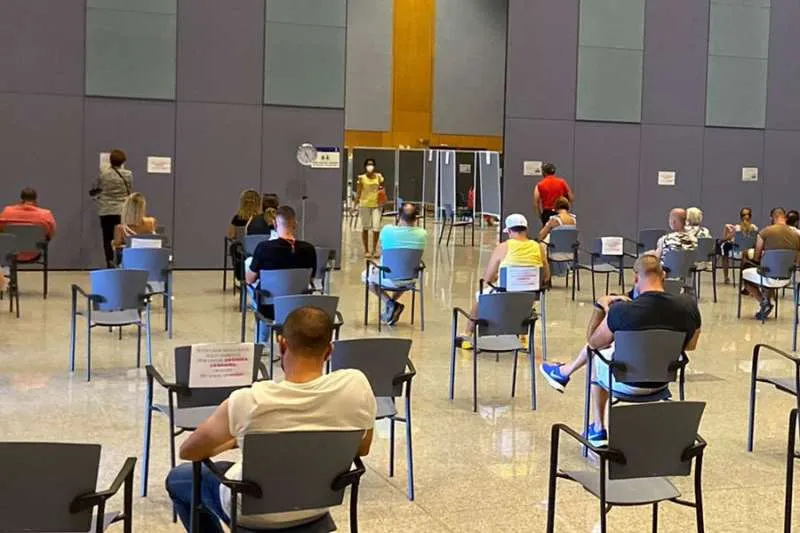 Covid update: The Canary Islands adds 5,424 new cases and 4 deaths
The Ministry of Health has released Covid data today for the Canary Islands for the first time since Tuesday, as now they are now only updating records twice a week. In the last 3 days there have been 5,424 new cases, at an average of 1,808 per day, and 4 deaths (two in Gran Canaria, one in Tenerife, and one in La Palma), taking the total to 1,611 since the pandemic began.
As of today, there are still 14,943 active cases in the Canary Islands, of which 32 are in ICU; 289 are in hospital wards, and 14,622 are in home isolation. The incidence rates for the islands now stand at 419.49 over seven days, and 847.45 cases per 100,000 inhabitants over 14 days.
At the moment Tenerife is the most infected island with almost 1,000 new cases since Tuesday, and the IA14 for the island is back up to more than 1,000. Lanzarote has the least number of active cases of the four bigger islands and the lowest 7-day incidence rate, and Fuerteventura has the lowest 14-day rate (see below).
Yesterday, Thursday, they announced that all covid alert levels on the islands will remain unchanged after analysing the epidemiological report of the General Directorate of Public Health, which confirmed an increase in cases and only a small decrease in hospital pressure.
This means that the islands are in the following alert levels and all have the same restrictions: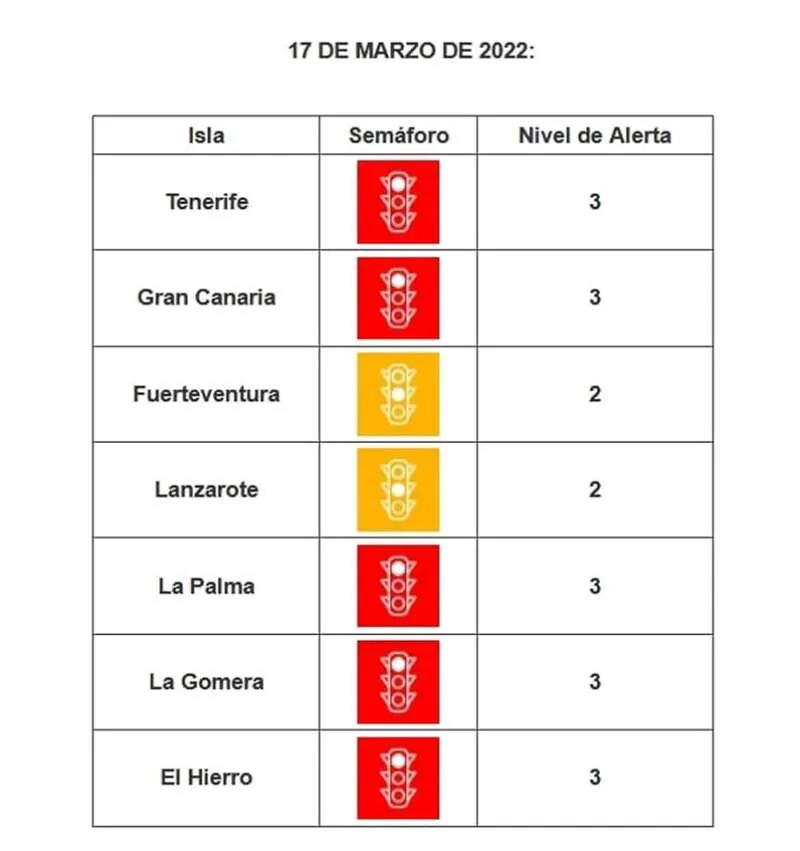 Full data for Friday 18th March 2022:
(Changes are compare to Tuesday 15th March)
New cases: 5,424
Tenerife: 2,516
Gran Canaria: 2,087
La Palma: 321
Lanzarote: 227
Fuerteventura: 130
La Gomera: 111
El Hierro: 32
Current Incidence rate (IA7): 419.49 (+16.43)
(Cases last 7 days: 9,130)
La Gomera: 1,019.47
La Palma: 699.75
El Hierro: 619.00
Tenerife: 530.58
Gran Canaria: 346.92
Fuerteventura: 149.50
Lanzarote: 115.52
Current Incidence rate (IA14): 847.45 (+4.42)
(Cases last 14 days: 18,415)
La Gomera: 1,785.22
El Hierro: 1,525.07
La Palma: 1,301.25
Tenerife: 1,057.50
Gran Canaria: 696.53
Lanzarote: 438.35
Fuerteventura: 279.79
General:
Covid patients in hospital: 289
Covid patients in ICU: 32
Home isolation: 14,622
R number: 0.96 (needs to be below 1)
PCR test positivity rate: 27.57% (should be below 4.5%)
Vaccination: (latest update)
Total administered: 4,316,169
Fully vaccinated: 1,762,721 people (84.03%)
One dose: 1,835,132 people (87.48%)
Children aged 5-11: 70,414 (51.43%) first dose and 36,273 (26.49%) second dose.
Booster doses: 845,572
Deaths: 4
Gran Canaria: 2 (585)
Tenerife: 1 (884)
La Palma: 1 (34)
Total deaths: 1,611
Medical Discharges: 3,615
Tenerife: 1,526
Gran Canaria: 1,385
Lanzarote: 335
La Palma: 181
Fuerteventura: 88
La Gomera: 71
El Hierro: 29
Total active cases per island:
Total: 14,943
Tenerife: 8,133 (+989)
Gran Canaria: 5,168 (+700)
La Palma: 786 (+139)
Fuerteventura: 336 (+42)
La Gomera: 268 (+40)
Lanzarote: 197 (-108)
El Hierro: 55 (+3)