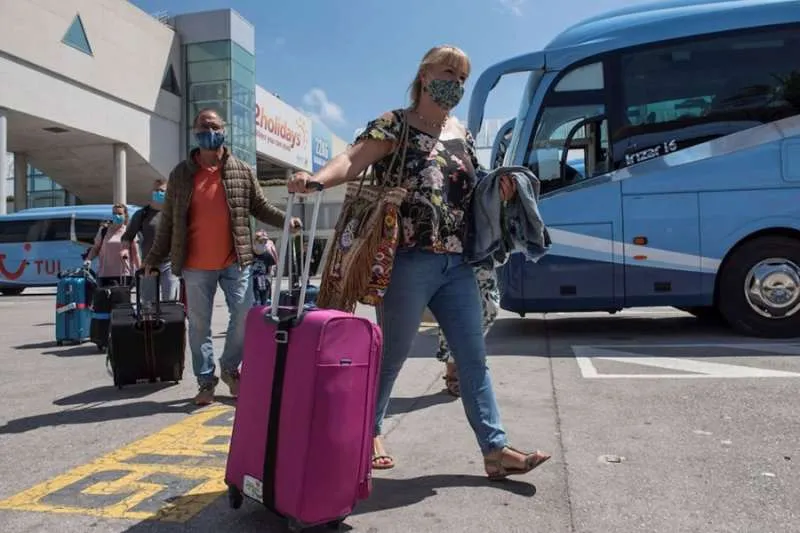 Covid update: 1,790 new cases and 4 deaths today in the Canary Islands
The latest data from the Ministry of Health, reports 1,790 new cases of Covid today with 1,133 people discharged, leaving 14,803 active cases in the Canary Islands. Of these only 283 people are hospitalised and 32 are in ICU as hospital pressure continues to decrease.
Tenerife is now the most infected island having 7,157 active cases on the island, compared to Gran Canaria which now has 5,802. Overall, Fuerteventura has the lowest epidemiological indicators in the whole archipelago, and a 14-day incidence rate of only 260 compared to 619 in Lanzarote, 882 in Gran Canaria, and 934 in Tenerife which has risen considerably.
In the last 24 hours, the deaths of four people have been reported, three in Gran Canaria and one in Tenerife, aged between 47 and 89 years old, all with previous pathologies and hospitalised.
Also, the R rate of contagion, which monitors the spread of the virus, has dropped from 1.33 on Sunday to 0.92 today, which is good news as it needs to be below 1.00 to ensure that the spread of the virus is under control.
Full data for Thursday 10th March 2022:
New cases: 1,790
Tenerife: 922
Gran Canaria: 571
La Palma: 103
Lanzarote: 79
Fuerteventura: 64
La Gomera: 32
El Hierro: 19
Current Incidence rate (IA7): 435.35
(Cases last 7 days: 9,474)
El Hierro: 852.25
La Gomera: 719.62
La Palma: 615.88
Tenerife: 519.92
Gran Canaria: 371.00
Lanzarote: 362.62
Fuerteventura: 117.76
Current Incidence rate (IA14): 863.94
(Cases last 14 days: 18,691)
El Hierro: 1,417.42
La Gomera: 1,171.69
La Palma: 1,050.83
Tenerife: 934.63
Gran Canaria: 882.85
Lanzarote: 619.98
Fuerteventura: 260.58
General:
Covid patients in hospital: 283
Covid patients in ICU: 32
Home isolation: 14,488
R number: 0.92 (needs to be below 1)
PCR test positivity rate: 28.25% (should be below 4.5%)
Vaccination: (As per latest update)
Total administered: 4,302,426
Fully vaccinated: 1,755,349 people (83.68%)
One dose: 1,834,021 people (87.43%)
Children aged 5-11: 70,071 (51.18%) first dose and 30,604 (22.35%) second dose.
Booster doses: 842,647
Deaths last 24 hours: 4
Gran Canaria: 3 (582)
Tenerife: 1 (873)
Total deaths: 1,596
Medical Discharges in last 24 hours: 1,133
Gran Canaria: 534
Tenerife: 322
Lanzarote: 135
Fuerteventura: 56
La Palma: 39
La Gomera: 30
El Hierro: 17
Total active cases per island:
Total: 14,803
Tenerife: 7,157 (+599)
Gran Canaria: 5,802 (+34)
Lanzarote: 675 (-56)
La Palma: 636 (+64)
Fuerteventura: 289 (+8)
La Gomera: 179 (+2)
El Hierro: 65 (+2)