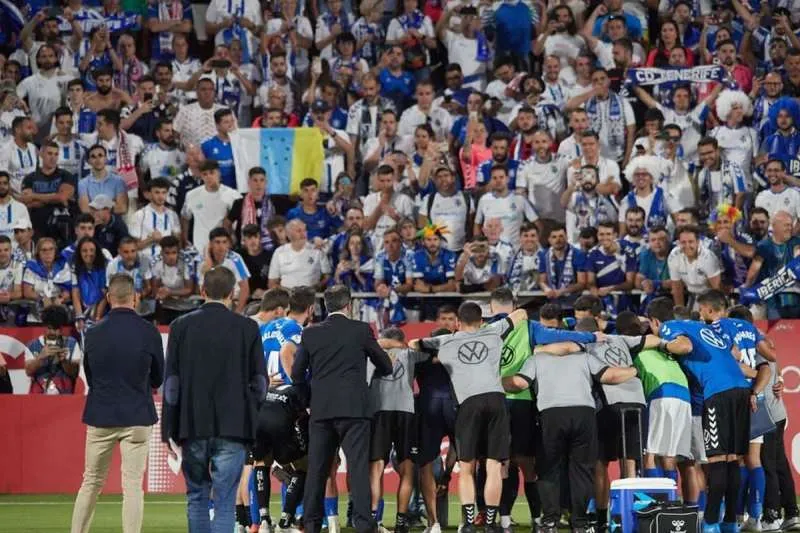 CD Tenerife are just one step away from promotion
CD Tenerife are now just 90 minutes away from moving up to La Liga, a promotion that will be decided at the Heliodoro in Santa Cruz next Sunday in front of more than 22,000 home fans. Luis Miguel Ramis' men left Montilivi with a 0-0 draw against a Girona team that was in control of the game at all times but was frustrated by the defensive football practiced by Tenerife.
The beginning of the match was as expected, Girona controlled the match and moved the ball from one side to the other trying to find a gap to break through to the well-protected CDT goal.
Tenerife barely existed in attack, and in fact, didn't get past the Girona midfield with possession of the ball until the 15th minute, and it was clear that neither of the two teams wanted to take risks.
Girona came close to scoring in the 38th minute after a mistake by Moore and Mollejo left Baena one-on-one with the Tenerife goalkeeper, who stayed big and deflected the shot of the skillful Girona player around the post.
The second half began without any changes to the starting eleven and with a big scare for the Tenerife goal. After some poor defending, León made a weak clearance and forced Soriano to act desperately. The play ended with a foul by Baena on the Tenerife goalkeeper, who earned a yellow card, but it was a big warning to the visitors.
Girona continued to dominate possession but there weren't any clear-cut chances for either team, and in the 60th minute Ramis made a change taking off Mario, and replacing him with Elady.
Bermejo was struggling with a calf problem on the right flank, and Girona realized this and tried to take advantage. It nearly paid off for them in the 70th minute with two consecutive corner kicks, but Tenerife managed to clear the danger as best as they could.
With ten minutes to go and the score still level, both teams made changes, Girona to try and reinforce their attack and Tenerife to protect a clean sheet as the game entered its final stretch.
In the dying minutes, Girona tried desperately to score, and boy did they try. However, in the last minute of the game, Tenerife had a chance to win it after a good play by Elady which put Gallego through, but he couldn't finish off the job before a surprised Juan Carlos in the Girona goal.
After that, there was no time for more and the final whistle took Tenerife closer to the dream of promotion. That dream could become reality next Sunday in Santa Cruz where CDT will have home advantage and that ever important 12th man!
Other articles that may interest you...