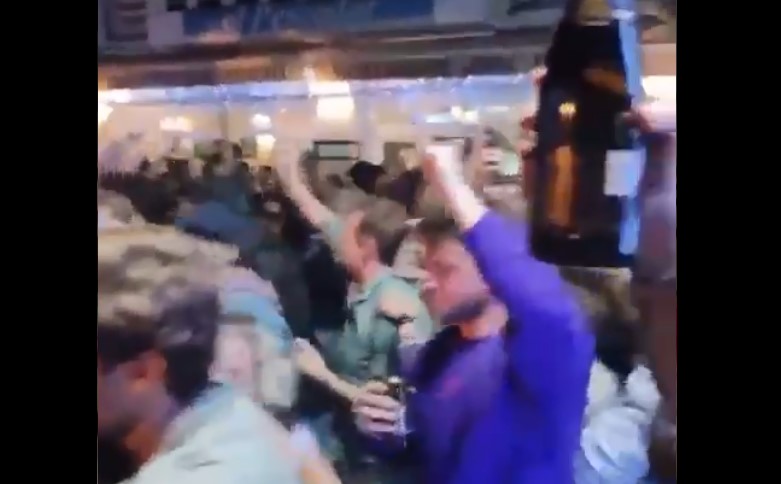 Outrage over New Years Eve street party in Fuerteventura
Bar and restaurant owners in a plaza in Corralejo, in Fuerteventura, have shown their disappointment in what happened in the Plaza Félix Estévez on New Years Eve, where a crowd left their venues and held a party in the street without respecting any of the security measures to prevent the spread of the coronavirus, whereas as the venues are fighting for business and sticking stringently to the rules in place.
Christmas restrictions mean that hospitality venues had to close at midnight in all of the Canaray Islands except Tenerife, and images and videos shared through social media show several dozen people celebrating the arrival of 2021 without respecting social distancing, human contact, or wearing masks.
@elprogramadear increíble actitud de fin de año en fuerteventura ( corralejo) . Sin presencia alguna de policía local ni guardia civil. pic.twitter.com/I6dReeV2Pa

— yasmina rguez (@lokiitah_21) January 1, 2021
Given this scenario, many Fuerteventurans have showed their outrage with comments such as "where were the police?" and "so irresponsible, everything we've achieved so far thrown away."
After being alerted of the situation, the Local Police of La Oliva sent patrols to the plaza, which arrived minutes after the group of people had dispersed, the Consistory informed in a statement. They are now identifying the people involved via posts on Facebook and Twitter, with the help of witness descriptions and testimonies.
Other articles that may interest you...
The Local Police of La Oliva also broke up two house parties in private villas of more than 10 people after the curfew time of 1.30am in the town. "In general, citizens have maintained exemplary behaviour and the events in the Plaza Félix Estévez are isolated and do not represent the rest of the municipality," said the mayor, Pilar González, who has thanked and recognized "the important work of the Local Police in maintaining public order and for citizen security."
The City Council of La Oliva has reported that these events will be reported by the Local Police and made available to the judicial authority.