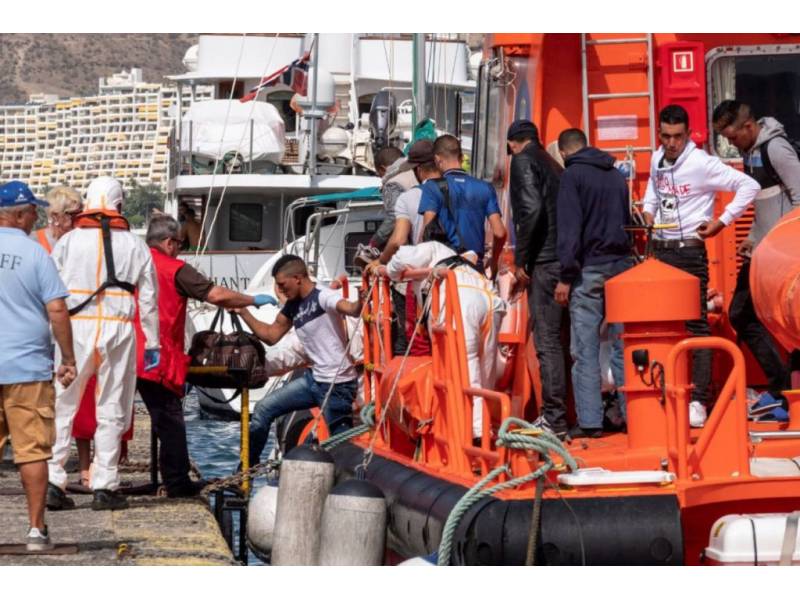 Another 100 irregular immigrants arrive in the Canary Islands in two boats
A hundred people survived the so-called 'Canary Route' that boats are taking from the west coast of Africa and arrived in the Islands yesterday in two boats which were both intercepted by Marítime Rescue.
The first arrived at dawn in Puerto del Rosario in Fuerteventura, with 14 minors among those on board, three of them small children, and they were part of the group of 50 immigrants who were assisted by a Maritime Rescue boat which intercepted them in an inflatable boat about 55 kilometres south of the island, after being spotted by an Army Air Rescue Service plane at 8:40pm on Saturday evening.
There were also 6 women and 30 men of adult age, according to sources from the Insular Directorate of the State Administration in Fuerteventura, who have specified that all the occupants of the boat are of sub-Saharan origin and appeared to be in good health.
As for the second boat, they were retrieved yesterday afternoon (Sunday), when Marítime Rescue met a boat with approximately 50 male adult irregular migrants onboard while sailing eight nautical miles southeast of Arguineguín in Gran Canaria. After the Guardia Civil detected a suspicious echo on their radar, the Sasemar 103 search and rescue plane was dispatched, which located the cayuco, so the Salvamar Macondo was sent to the co-ordinates and found the boat at 5:25pm with 50 occupants in it all in apparent good health.
SPAIN ONLY REPATRIATED 153 IMMIGRANTS IN TWO MONTHS:
Spain only repatriated a total of 153 irregular migrants from the Canary Islands to their countries of origin between January 1st and February 28th of this year, as reported by the Government in a response to a parliamentary question asked by the Partido Popular (PP). Carlos Rojas questioned the Executive on this issue after the appearance in the Senate, on February 23rd, of the Minister of the Interior, Fernando Grande-Marlaska, who said that only migrants who belong to vulnerable groups would be transferred.
Other articles that may interest you...
Rojas asked who decides which people belong to these vulnerable groups, as well as the number of transfers made this year and their cost. In response, the Government supports Grande-Marlaska's statements, pointing out that the Interior "does not organize, manage, or finance migrant transfers from the Canary Islands to mainland Spain", although it has "authorized" some "sporadic and very limited transfers "because they are" vulnerable people, or persons likely to be creditors of international protection". These vulnerable groups are established according to the Law regulating the right to asylum and subsidiary protection, in which these groups are identified
So far, 988 requests for asylum and international protection have been made so far this year (as of April 9th), of which about 400 have been resolved favourably. Of these, 16 (8 women and 8 men) have been granted asylum protections; 82 (all women) subsidiary protections; and 302 (124 men and 178 women) protections for humanitarian reasons.