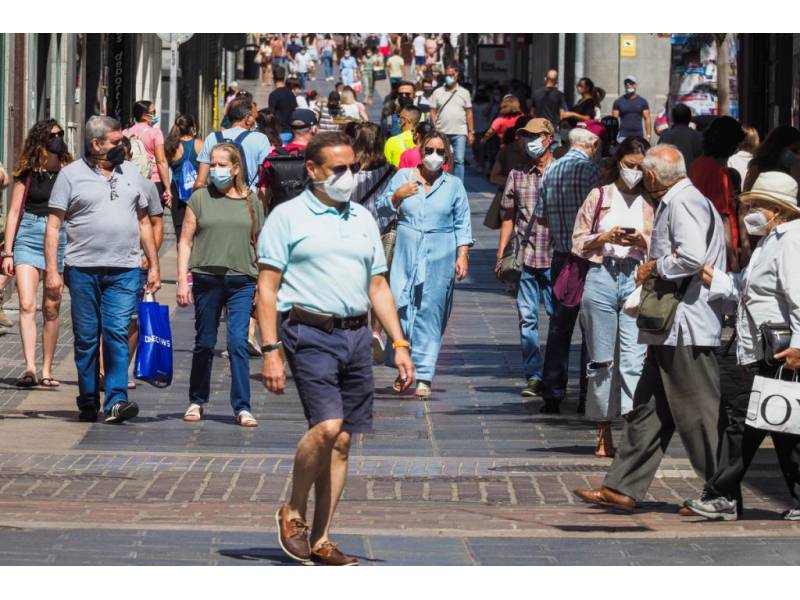 Covid update: New cases spiral out of control with almost 5,000 in just 24 hours
The Canary Islands continues to record its worst data of the pandemic with 4,914 new cases of coronavirus detected in just one day, which along with 790 people medically discharged means that there are now 36,961 people in the archipelago with Covid, of which 355 are in hospital wards and 67 are critical in ICU.
The Ministry of Health has also reported six more Covid related deaths, four of which are in Tenerife and 2 are in Granaria bringing the death total from the pandemic to 1,124 people.
Of the new cases, Tenerife recorded 2,724 followed by Gran Canaria with 1,507. Lanzarote adds 352 new cases, La Palma 148, Fuerteventura has 135, there are 32 in La Gomera, and 15 in El Hierro.
The Ministry of Health has confirmed that most of the new cases are in those aged between 20 and 49, the age groups that mix more than others, and particularly in the 20-29 and 30-39 brackets, which have the lowest vaccination rates.
Data for Wednesday 29th December 2021:
(updates are against yesterday's figures)
New cases: 4,914
Tenerife: 2,724
Gran Canaria: 1,507
Lanzarote: 352
La Palma: 148
Fuerteventura: 135
La Gomera: 32
El Hierro: 15
Current Incidence rate (IA7): 944.51
(Cases last 7 days: 20,558)
Tenerife: 1,245.42
La Gomera: 1,107.11
Lanzarote: 804.82
El Hierro: 780.48
Gran Canaria: 742.71
La Palma: 535.60
Fuerteventura: 505.30
Current Incidence rate (IA14): 1,502.65
(Cases last 14 days: 32,657)
Tenerife: 2,115.43
La Gomera: 1,388.50
Lanzarote: 1,127.00
Gran Canaria: 1,073.97
El Hierro: 1,058.58
Fuerteventura: 890.32
La Palma: 747.68
General:
Covid patients in hospital: 355 (+28)
Covid patients in ICU: 67 (-)
Home isolation: 36,543
R number: 1.41 (needs to be below 1)
PCR test positivity rate: 25.66% (should be below 4.5%)

Vaccination:
Total administered: 3,739,741
Fully vaccinated: 1,687,998 people (80.47%)
One dose: 1,764,701 people (84.13%)
Children aged 5-11: 35,075 (25.62%)
Booster doses: 430,501

Deaths last 24 hours: 6
Tenerife: 4 (630)
Gran Canaria: 2 (391)
Total deaths: 1,124

Medical Discharges in last 24 hours: 790
Tenerife: 313
Lanzarote: 301
Gran Canaria: 149
La Palma: 16
La Gomera: 11
Fuerteventura: 0
El Hierro: 0

Total Active cases per island:
Total: 36,965
Tenerife: 21,549 (+2,407)
Gran Canaria: 10,980 (+1,356)
Fuerteventura: 1,994 (+135)
Lanzarote: 1,511 (+51)
La Palma: 539 (+132)
La Gomera: 281 (+21)
El Hierro: 107 (+15)
Municipalities with most active cases in each island:
9,325 in Santa Cruz (Tenerife)
8,640 in Las Palmas (Gran Canaria)
4,672 in La Laguna (Tenerife)
1,086 in Arrecife (Lanzarote)
1,021 in Puerto del Rosario (Fuerteventura)
805 in Arona (Tenerife)
661 in Adeje (Tenerife)
643 in Telde (Gran Canaria)
625 in Puerto de La Cruz (Tenerife)
620 in Granadilla de Abona (Tenerife)
619 in La Oliva (Fuerteventura)
357 in San Bartolomé de Tirajana (Gran Canaria)
342 in Santa Lucia de Tirajana (Gran Canaria)
277 in Guia de Isora (Tenerife)
112 in Mogán (Gran Canaria)
102 in San Miguel de Abona (Tenerife)
87 in Santiago del Teide (Tenerife)
(Please note this is not all municipalities, it represents the most infected and tourist areas)