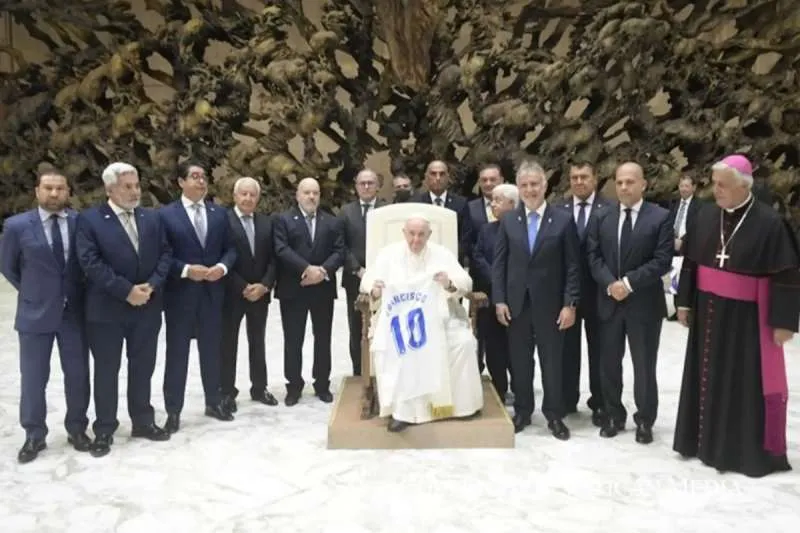 Torres and CDT visit the Pope and invite him to the Canary Islands
The president of the Canary Islands, Ángel Víctor Torres, has invited Pope Francis to visit the Canary Islands, during the greeting after the general audience today (Wednesday), which was also attended by representatives of CD Tenerife marking the club's centenary year.
Torres went to the Vatican with the delegation from the football club, the president of the Cabildo de Tenerife, Pedro Martín, and Bishop Bernardo Álvarez to participate in the traditional Wednesday general audience held by the Pope, after which they were able to meet the Argentine pontiff and give him some gifts.
Torres described this greeting as "historic due to the 100 years of CD Tenerife" and "very emotional as the pope is a personality that goes beyond religion", adding "He is an example for everything, in the ethical and moral aspect and in his message of working for the most vulnerable."
Torres said that the meeting, organized by CD Tenerife, "was a success" and that "it puts the Canary Islands on the map".
The delegation gave the pontiff a CDT pennant, a team shirt and scarf, and some Canarian pintaderas (carvings) that, Torres explained, "reflect the pre-Hispanic reality of the Canary Islands and the aboriginal origins of our land."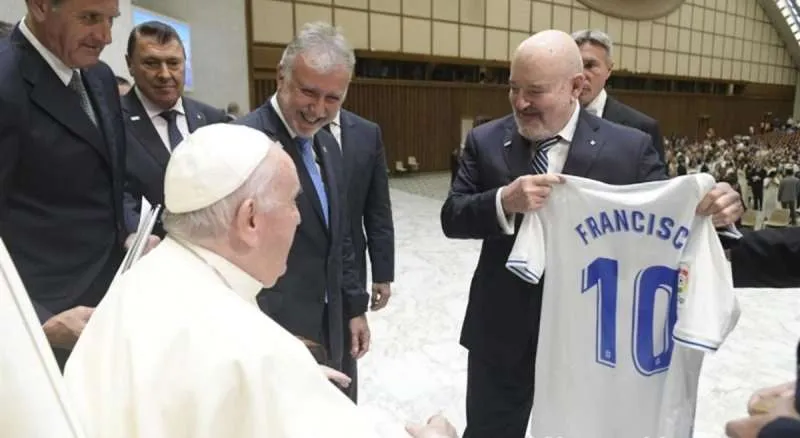 The quote of the meeting was that the pope, upon receiving the scarf, asked jokingly "is it that cold in the Canary Islands?"
The president also took the opportunity to invite the Pope to the Canary Islands, saying "If you can, it would be an honour."
The president of the Tenerife Cabildo, Pedro Martín stressed that it was a unique occasion for him. "Having the possibility of being close and talking to him about our island, and on top of that with a delegation from CD Tenerife, it's something I will remember forever."
Let's hope that it will bring some good luck to the club as they bid to go one step better than last year and get promotion to La Liga.
Other articles that may interest you...