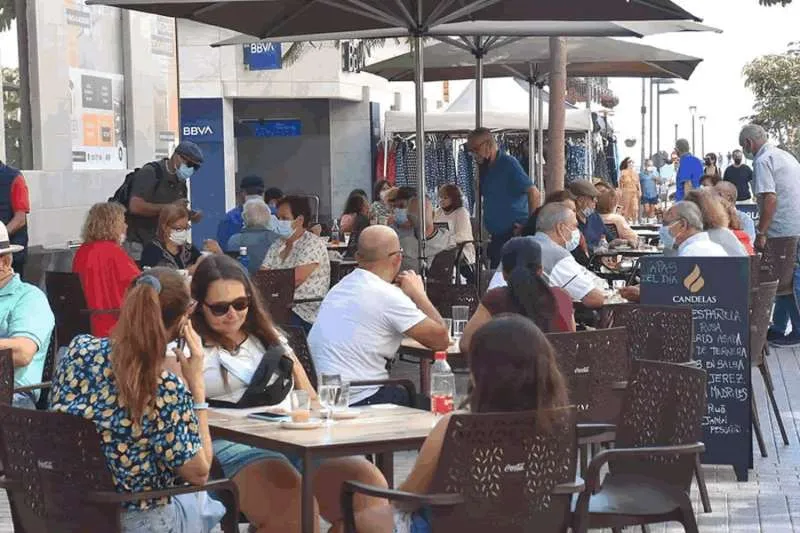 These are the restrictions that should be lifted on Thursday
Following the announcement by the president of the Canary Islands, Ángel Víctor Torres, that at the next Governing Council meeting on Thursday, all local anti-Covid restrictions will be lifted in the Canary Islands due to the evolution of the pandemic and the de-escalation plan.
Torres stressed that this is a temporary suspension of the general and regional measures that, if circumstances worsen, can be reactivated again.
These are the main measures that are still in force, which will no longer be mandatory on the islands that are at alert levels 1, 2, and 3:
1. General capacity: 100%, both in outdoor and indoor spaces. No maximum group sizes
2. Cultural activity: maximum capacity allowed regardless of whether or not it is considered a massive event, will be 100% both in indoor and outdoor spaces.
3. Public shows: cultural, recreational, leisure, and entertainment activities, including sports, that take place sporadically, and in places other than the establishments intended activity, will be able to have 100% capacity both indoors and outdoors, regardless of whether the public remains standing or sitting, or eating or drinking.
4. Federated and non-federated, professional and non-professional sports practice: it is allowed indoors and outdoors, maintaining the interpersonal distance of 2 metres whenever possible. The number of participants will be limited by the specific regulations of each sport.
5. Training, competitions and sporting events: the capacity of the public can be 100% both indoors and outdoors, incorporating the measures in the Agreement of the Interterritorial Council of February 16, 2022 on the measures for mass sporting events, including those of the Professional Football League and the ACB League.
6. Children and youth camps: The capacity will be 100% for both indoor and outdoor activities.
7. Camping:: Camping is only allowed in designated campsites, and the camping area will be delimited respecting the safety distance. Overnight stays are allowed guaranteeing the distance of 2 metres between beds, bunks, or people, and maintaining cross ventilation with outside air.
8. Dancing, parties, open-air festivals: These are still not allowed, without prior permission from the Canarian government.
The Government spokesman, Julio Pérez, explained that the basis of these measures is because although the incidence indicators of infections remain high, the Public Health reports indicate that they lose importance in relation to the level of pressure on hospitals.
Other articles that may interest you...