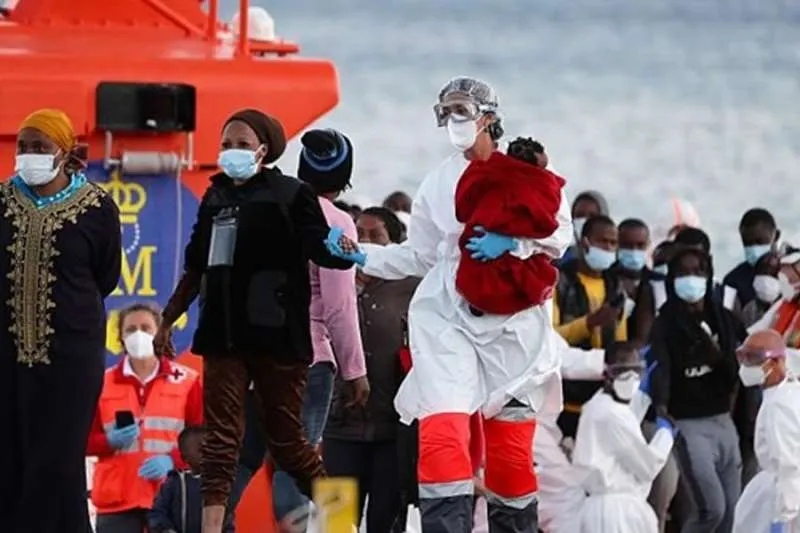 The arrival of boats from Africa has dropped to the lowest level in two years
During the first two weeks of March, only one boat of irregular immigrants came to the Canary Islands with 56 occupants on board, which shows a decrease in crossings of the so-called 'Canarian Route' from West Africa, that has not been seen for two years since the same fortnight of 2020 just before the coronavirus lockdown.
In the first fifteen days of 2020, 49 people arrived in the islands in three boats, which meant that a total of 1,230 people up to that date had crossed the Atlantic to the Canary Islands, according to data published this week by the Ministry of the Interior.
The Canarian Route has been at levels this year not seen since the 'immigration crisis' of 2006, with 5,552 people arriving between January 1st and March 15th, which is double the figure for 2021, when there were 2,580 arrivals between these dates.
However, the different organizations that work with immigrants are stumped by the break that has been seen in the last few weeks, as up until the arrival of the inflatable boat with 56 people on board (33 men, 18 women, and five children) in Fuerteventura March 9th, there had been 13 days without any boats. This has not happened since the pandemic began, and since March 9th, there hasn't been any more since either.
However, this does not mean that the Atlantic Route won't be reactivated again in the near future (as it did in 2020), nor does it mean that there are no boats trying to cross.
On the contrary, many young Africans continue to wait on the coasts of Morocco and the Sahara, or even further south, for their opportunity to cross to the Canary Islands and they keep trying, sometimes with tragic consequences.
Forty-four people, including five babies, were killed on March 12th when a small boat capsized near the coast of Tarfaya, which was heading for Fuerteventura, the closest island to that town in Morocco, being only 103 kilometres away.
However, the figures for immigrant arrivals in the Canary Islands have been decelerating for six weeks, after reaching a peak of 2,404 people from January 16th to 31st, at a rate of 150 per day.
In the first half of January, 790 people arrived in 19 boats; in the second 2,404 people in 52 boats; in the first half of February, 1,559 people in 30 small boats; in the second, 743 people in 14 boats; and in the first half of March, 56 people in one inflatable.