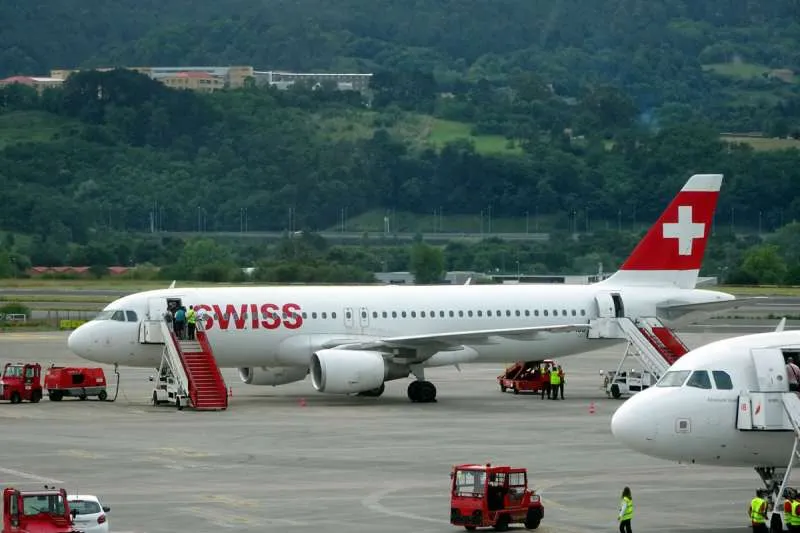 Plane lands in Spain with none of the passenger's luggage on board
In an unexpected turn of events, a Swiss plane en route from Zurich landed in Spain over the weekend without a single piece of luggage on board, leaving passengers bewildered and frustrated. The incident was brought to light by media reports yesterday (Sunday) with the airline attributing the mishap to a shortage of ground staff.
Passengers who had boarded the Swiss Airlines flight bound for Bilbao on Saturday evening found themselves waiting anxiously by the baggage carousel for more than two hours, only to discover that their belongings were nowhere to be seen, according to the Blick daily newspaper.
Kavin Ampalam, a spokesperson for Swiss Airlines, confirmed the unusual situation and explained that the aircraft, operated by Swiss on behalf of Edelweiss Airlines, had departed Zurich with 111 passengers but no baggage.
"We experienced a shortage of ground staff at Zurich airport," Ampalam told AFP, adding that the flight crew had initially delayed the departure, hoping to resolve the issue.
However, after an agonizing wait of "one hour and 16 minutes," with no resolution in sight, the airline made the decision to proceed to Bilbao without the passengers' luggage. This decision was driven by the necessity to pick up additional passengers in Bilbao and return the aircraft to Zurich before the airport's nighttime closure.
"We acknowledge that this situation was far from ideal for those involved, and we sincerely apologize for the inconvenience," Ampalam expressed on behalf of the airline.
Blick newspaper reported that passengers had heard an apology from the pilot in Zurich, who attributed the delayed take-off to "a lack of qualified personnel." However, there was no mention of the decision to leave the luggage behind during this announcement.
Passengers further revealed that upon arrival in Bilbao, there was no Swiss Airlines staff present, and they waited for over two hours at the baggage claim area before being informed by personnel from Spanish airline Iberia that the plane had landed without their luggage.
Ampalam could not confirm whether passengers had been informed about the baggage situation before departure from Zurich, stating, "We are still investigating the incident to understand the precise sequence of events and identify areas for improvement. Such incidents should not occur."
The unusual occurrence left passengers disappointed and inconvenienced, highlighting the challenges airlines face in maintaining operational efficiency amidst staffing shortages.
Other articles that may interest you...