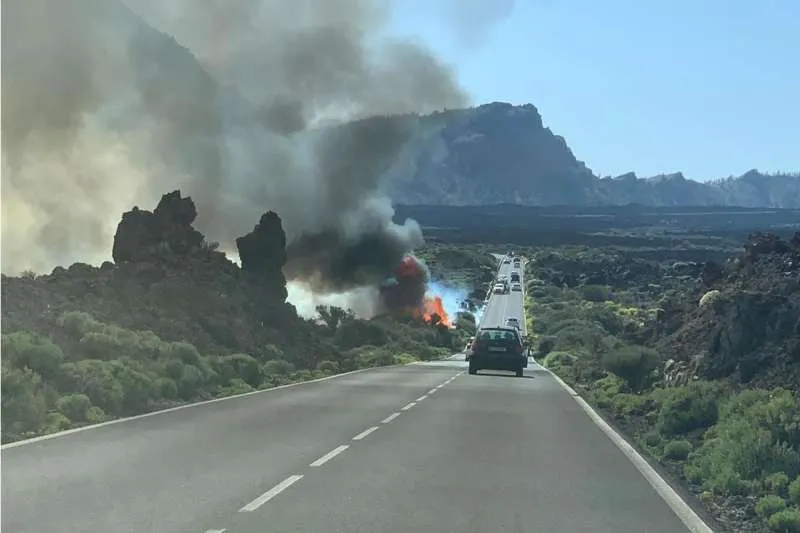 VIDEO: Outbreak of fire reported in Tenerife
Reports are coming in about an outbreak of fire in the Boca Tauce area of Teide National Park this afternoon (Monday), that started at around 4pm. Witnesses say that at first, they saw a small plume of smoke but within minutes there were large flames and that the fire was spreading at a "rapid pace".
As people took to safety in their cars driving away from the blaze, they passed fire engines and officers from the forestal commission (BRIFOR) coming the other way to tackle the fire and prevent it from spreading further.
The Cabildo have confirmed that aerial support by EIRIF of the Canary Islands Government based in La Gomera, have been activated to help with controlling the fire.
⛏️🔥Llegada y desembarco de los @EIRIFGobCan en la zona de Boca Tauce para actuar en el incendio del Parque Nacional del Teide pic.twitter.com/ICIcwq3Wh0

— EIRIF (@EIRIFGobCan) May 15, 2023
This outbreak comes after a fire in la Palma over the weekend, and on the same day that the advisory committee of Plan Infoca have brought forward the date of high-risk wildfire season by two weeks in southern Spain.
Current weather conditions are close to those required for the same to be activated in the Canary Islands, which are known as the Three30s:
- Temperatures above 30°C.
- Winds over 30km/h.
- Humidity less than 30°C.