'Illegal' street vendors take over the beaches in the south of Gran Canaria
Maspalomas and Playa del Inglés have been without bars or kiosks on their beaches for two and a half years since the pandemic began, and in the last few months this has encouraged street vendors onto the sand, who have divided the two beaches of San Bartolomé de Tirajana between them.
A demand exists from thirsty tourists and a group of people are meeting it, offering drinks and fruit from cool boxes. However, the council is denouncing that it is an illegal activity and that, therefore, they do not have authorization.
Municipal sources have confirmed that the Local Police are instructed to stop them, but acknowledge that the beach area they are on is very extensive and that it is very difficult to effectively prevent them.
Business owners around the two beaches are complaining that the street vendors are "beyond unfair competition", saying that they are selling food and drink on the beach without any health control requirements. Even though the sellers use cool boxes to keep their products cold, they are not under any supervision.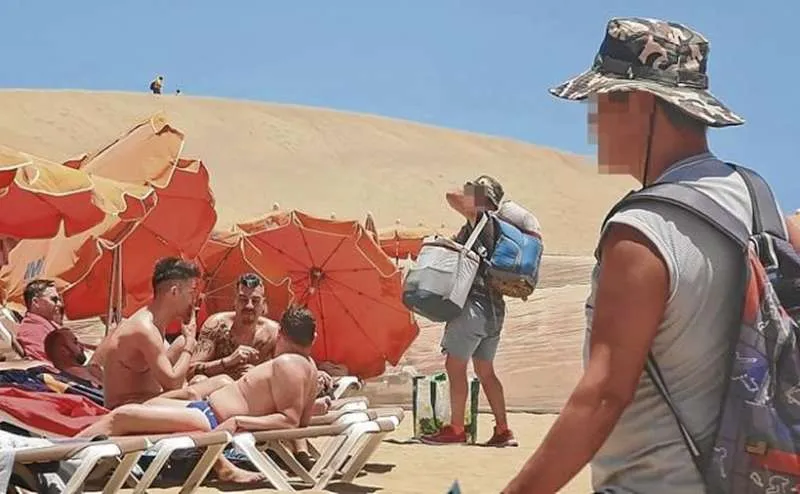 Municipal regulations:
The beach ordinance in force (official rules) does not actually prohibit this activity, but in section 13 of article 22, the one referring to obligations, prohibitions, and rules of use of the beach and the coast, it limits street vending unless it is provided under specific regulations and with authorization.
Meanwhile, the council insists that they are finalizing the procedures to award of the operation of the two sets of the 10 kiosks that were put out to tender to serve Maspalomas, Playa del Inglés, and El Cochino. They said: "There is already a proposal on the table and now we are in the process before the final signing of the contracts".
This service has been inoperative since the pandemic started. The contracts on the kiosks had already expired beforehand but the regulations allowed them to stay open until the confinement decree meant everything closed on 15th March 2020.
Once they closed, they could not be reopened as the regulations require them to be put out to tender again, but the council has taken two and a half years for this procedure. In the meantime, the old kiosks, many of which were falling apart, have been replaced by new ones.
Five companies have applied to take over this business, and the winning applications are scheduled to be announced at the end of this month.
Other articles that may interest you...