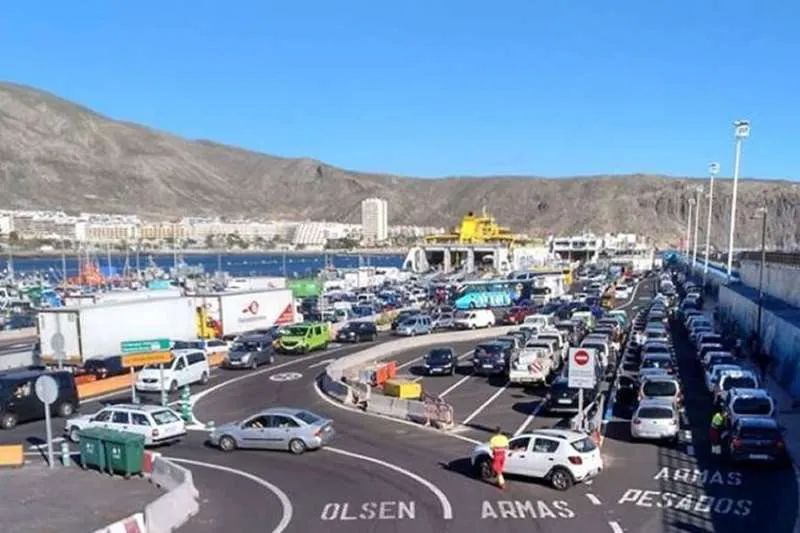 Arona enables alternative route from Los Cristianos port to the TF-1 on Sunday
The Port Authorities and the Arona Council have confirmed that they are enabling an alternative exit route from the port of Los Cristianos to the TF-1 motorway to alleviate traffic jams on Sunday, due to the volume of people and vehicles returning from mini-breaks over the Easter holidays.
The Easter weekend is slightly different in the Canary Islands than in the UK, as Thursday and Friday are bank holidays here as opposed to Friday and Monday, so many Spaniards and Canarians have had this week as a holiday, but the weekend influx from the mainland and north of the island starts today and finishes on Sunday.
According to data provided by the ferry companies, Armas and Fred Olsen, 3,257 vehicles bound for La Gomera, La Palma and El Hierro are booked on ferries between yesterday afternoon and 12.30pm today.
On Easter Sunday they expect even more to come through the Los Cristianos port as some will have gone for a week and not just four days, so both the Council and the Port Authorities want to avoid gridlock and traffic problems in the town and the vast majority will be heading to the TF-1 after disembarking.
The usual route through Los Cristianos, turning right at the Chayofita roundabout opposite Parque Santiago 6 onto the dual carriageway down to the Juan Carlos roundabout then left up to the TF-1, will be open as usual, but there will also be a second option.
This alternative route will take you left at the Chayofita roundabout towards La Americas, where you then turn right at the roundabout opposite the Aparthotel Columbus, and next right opposite Oro Blanco taking the dual carriageway to join the TF-1 at the junction for Siam Mall and Golf Las Americas.
The Arona City Council has already installed the relevant signage to indicate the temporary authorization of this road as an exit from the centre of Los Cristianos, which although it is far from being a definitive solution, will at least allow relief of exit traffic towards the motorway during this peak period. The Council had everything in place to test this route at Easter in 2020 but it wasn't necessary due to the confinement of the pandemic, so now is the perfect time.
Other articles that may interest you...