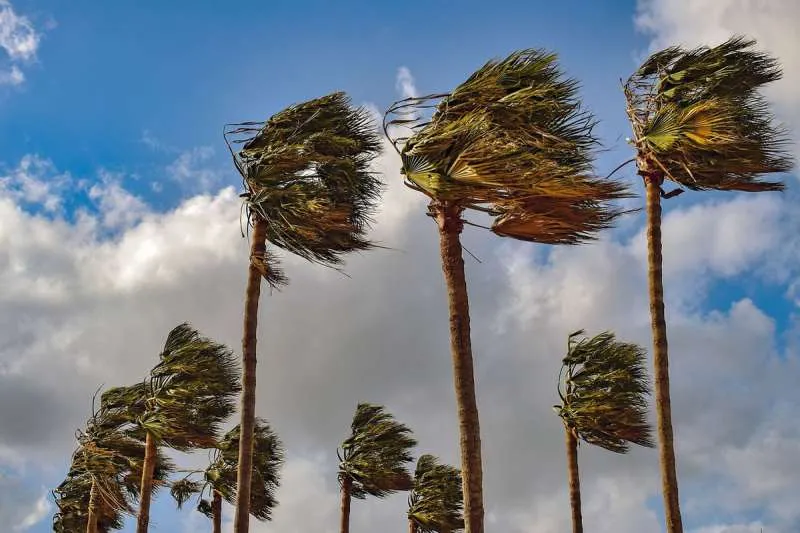 A windy Wednesday but Storm Celia's strength is subsiding
The State Meteorological Agency (AEMET) has said this morning, that the strength of Storm Celia will start to ease off today (Wednesday), although yellow weather warnings for wind and dangerous sea conditions continue. There were signs yesterday that the Storm was passing as mainly northern areas were affected, despite the fact that the summits of Gran Canaria, Tenerife, and La Palma had snow.
Today's weather forecast from AEMET predicts clouds and some rain in the north of all of the islands, although Lanzarote and Fuerteventura will clear up during the afternoon.
Temperatures are going to be the same as they have been over the last two days, and the wind will remain strong with gusts on the coasts and at summits. In the western islands, it will blow from the north turning to the northeast from midday, whereas in the eastern islands it will start from the northwest turning to the north this afternoon.
Here is today's weather forecast by islands:
TENERIFE (South):
General: Cloudy with sunny spells in the south, overcast and rain in the north.
Humidity: 70%
Precipitation: 7% - No rain forecast in the south.
Wind: Moderate, up to 26km/h from the east.
Temperatures: Maximum 21°C and minimum 15°C.
GRAN CANARIA (South):
General: Overcast and cloudy with showers across the island.
Humidity: 66%
Precipitation: 24% - Possible showers this afternoon.
Wind: Strong, up to 35km/h from the northeast.
Temperatures: Maximum 20°C and minimum 14°C.
LANZAROTE:
General: Cloudy and overcast with some rain.
Humidity: 71%
Precipitation: 23% - Some light showers are forecast during the day.
Wind: Strong, up to 37km/h from the north.
Temperatures: Maximum 19°C and minimum 14°C.
FUERTEVENTURA:
General: Cloudy with some sunny spells and localised showers.
Humidity: 67%
Precipitation: 12% - Chance of light showers.
Wind: Strong, up to 37km/h from the north.
Temperatures: Maximum 19°C and minimum 15°C.
AEMET FORECAST FOR THURSDAY:
On Thursday, the skies will remain cloudy with light showers in the north of the islands. A cloudy is expected in Lanzarote and Fuerteventura but clearing during the afternoon, and in the rest of the islands, it will be mostly cloudy.
The temperatures will remain stable, although they will tend to rise in inland areas of Gran Canaria. The northeast wind will continue to blow with strong intervals on the northwest and southeast slopes of the most mountainous islands.