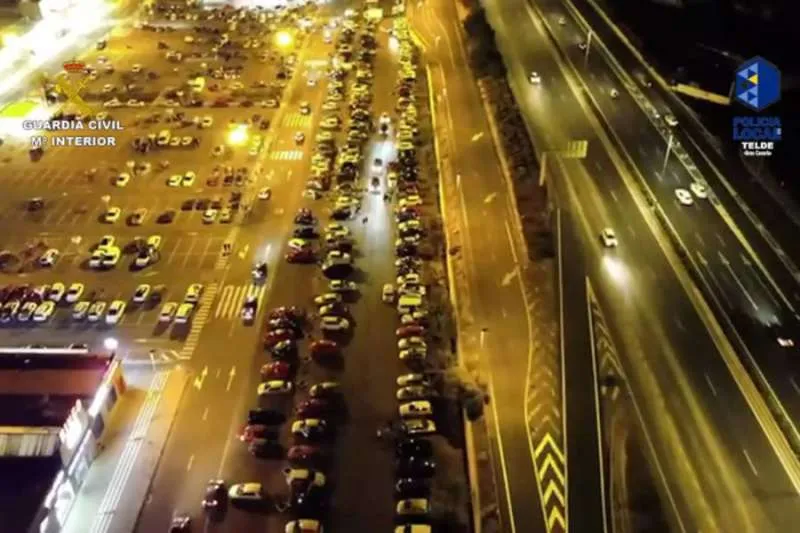 42 people arrested for illegal street races on public roads in the Canaries
The Guardia Civil and the Local Police of Telde in Gran Canaria have arrested 42 people, and are investigating another six, for crimes against road safety as part of a macro-operation against illegal street races on public roads on the island.
According to the official police press release, the operation, called 'TodogasGC', began when agents from both police forces were informed about illegal races on different roads in the municipality of Telde.
The participants of the races used an alert system to warn participants of police presence so they could resume the races when the agents left the area.
However, over three months the Guardia Civil and the Local Police formulated an operation using discreet and remote surveillance with camouflaged vehicles and drones to capture the images needed showing the true scope of the activities they were carrying out.
Using these methods, they confirmed that the cars drove parallel to each other on the GC-1 motorway, and almost slowed to a stop for the start of the races, which was indicated by a signal of three blasts of a horn.
The images and videos obtained show modified cars and mopeds 'competing' on the GC-1 using all lanes of the motorway to overtake or undertake without any respect for the safety of the other road users.
The moped races had up to seven participants who, once the race had started, constantly overtook each other during the 6 kilometres round trip that it lasted.
In addition, an added risk to these illegal races was the large presence of public spectators who stood both on the hard shoulder and in the joining lanes of the GC-1 to watch the race, with no safety measures, e.g. reflective vests.
The agents even recorded some of the attendees crossing the motorway to stand in the central reservation so they could watch it from both directions and video it.
Following the surveillance, the two police forces launched the operation and arrested 42 people on several charges, and confiscated 40 cars and mopeds. The investigation is ongoing to ensure they have the ring leaders and to prevent other races from taking place endangering people's lives.
Other articles that may interest you...