30°C temperatures and haze return to the Canary Islands this week
After an unusually hot October due to a heat wave, November arrived in the Canary Islands with more autumnal weather, but it isn't lasting long, because as of today (Monday) the temperatures will rise again and haze will be returning to the archipelago, according to the forecast of the State Meteorological Agency (Aemet).
The forecast for today is slightly cloudy or clear skies, except for some cloudy intervals on the northern coasts and inland during the early morning and later hours of the day, and a light haze at altitude is not ruled out.
Temperatures are forecast to go up and reach 30°C on the south and west coasts of Tenerife, Gran Canaria, Lanzarote and Fuerteventura, with a variable light wind in inland areas and moderate northeasterly wind in the extreme northwest and southeast.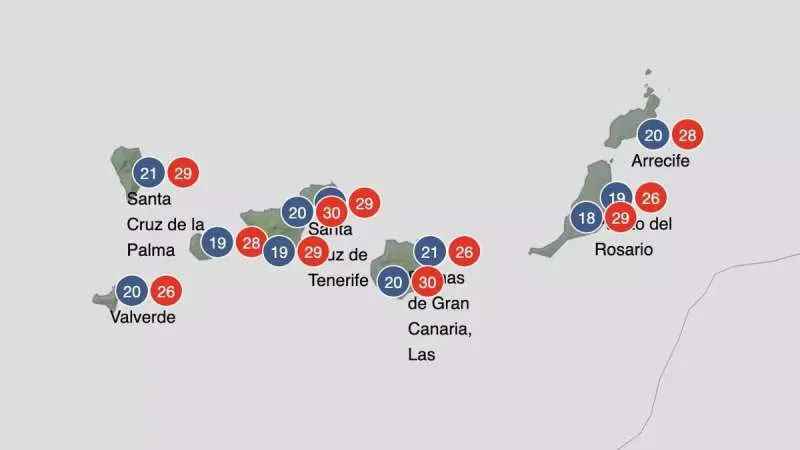 Temperature map for Monday 13th November 2023
These higher temperatures will continue tomorrow (Tuesday) as the Aemet report forecasts slightly cloudy or clear skies with the presence of of light haze at altitude. As for temperatures, there will be a slight to moderate rise in the minimum temperatures in the eastern islands and in the maximums of the northern areas of the western islands.
For the second day running, it is not ruled out that 30°C will be reached locally inland and on the south and west coasts of the islands, especially in Lanzarote, Fuerteventura and Tenerife. Also, expect a moderate to light wind from the east in the eastern islands and from the northeast in the rest.
On Wednesday the forecast is similar, although the probability of haze at altitude decreases and temperatures will begin to drop slightly in the western islands (Tenerife, La Palma, La Gomera and El Hierro), but will remain at 30°C in the eastern islands. According to Aemet, there will be mostly clear skies with clouds at high altitude, and a low probability of haze in the early hours of the morning in the western islands. There will also be a light to moderate wind from the northeast, and from the east on summits.
Other articles that may interest you...