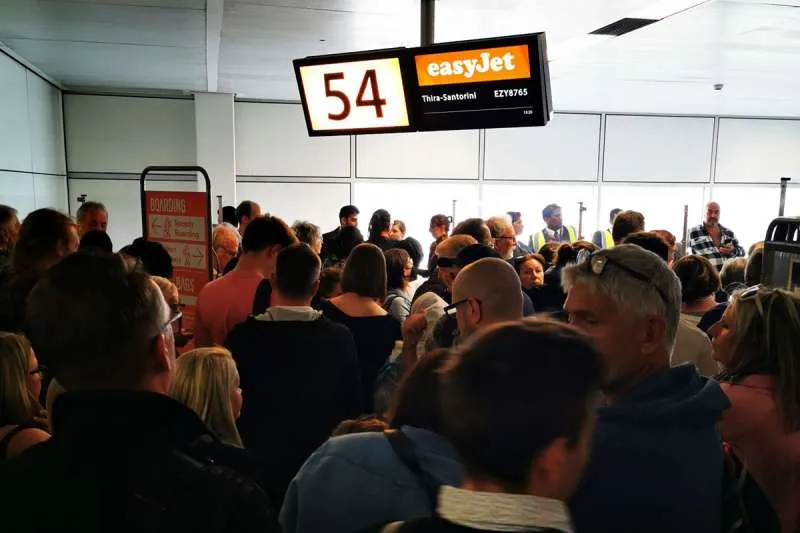 30,000 UK holidaymakers have travel plans scrapped as EasyJet cancels flights
Thousands of EasyJet passengers have continued to be hit with flight cancellations and long delays over the weekend, after the airline reportedly experienced a software glitch. The chaos continues today as dozens more flights have already been cancelled leaving some holidaymakers unable to get home. The airline says the IT failure has been fixed, but some disruption may continue throughout the day.
It is the latest blow for the company which has been struggling with staff shortages amid a surge in travel demand. On Thursday, some 200 EasyJet flights were cancelled to and from airports across the UK including Gatwick, Stansted, London and Manchester, which has now risen to more than 240 over the next 10 days.
The issue was said to be an IT glitch that forced the airline to call off hundreds of flights departing throughout the afternoon. It also caused significant delays later in the day. Many of the flights were reportedly cancelled at the last minute, even after boarding had been completed.
The company released a statement apologising for the disruption, saying: "We apologise for the inconvenience caused and would like to thank customers for their patience as we work to resolve this as soon as possible."
The statement added: "We advise customers due to travel with us today to continue to check Flight Tracker to check the status of their flight before making their way to the airport."