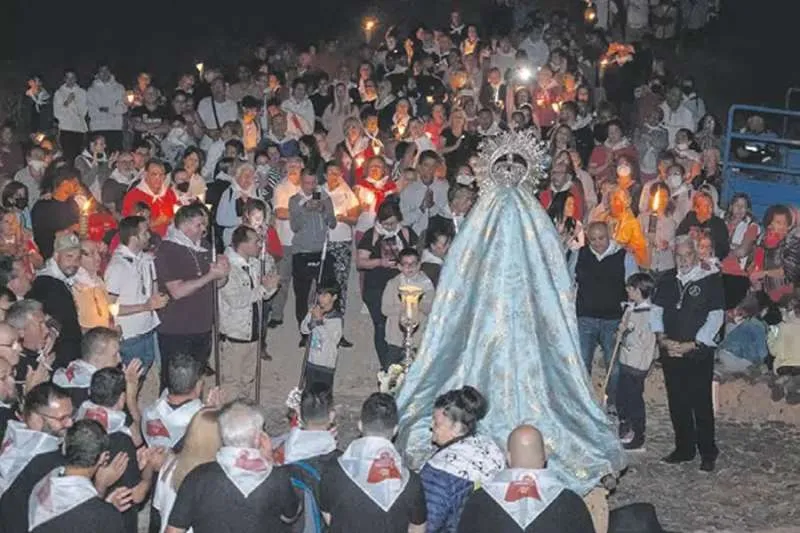 1,200 people take part in Adeje walk for the Virgin Incarnation
Now that fiestas and celebrations are allowed again, Adeje residents were out in force to make the first night walk for two years after the recent proclamation of the canonical patronage of the Virgin Incarnation by the Vatican.
1,200 people accompanied by the mayor of Adeje, followed an illuminated route on Saturday night with traditional stops made at the Cruz del Llano where the clergy delivered the sacred image to the people so that they could fulfil the promise of more than 300 years ago to take it to its first home in San Sebastián, where the image was found and where it still lives.
Another stop was made at the cemetery to honour the deceased, then the traditional Camino de la Virgen with its stops for prayer, while chacaras and drums were heard along the route.
The official acts of the celebration began on Friday afternoon in the Convent of Adeje with the presentation of the 'Book of Miracles of the Virgin', by the researcher and writer, Nelson Díaz Frías, and shortly after, the new processional march ' Encarnación Adejera' which was performed by the Villa de Adeje Musical Board Band.
Yesterday afternoon (Sunday), the canonical patronage of the Virgin was proclaimed in the Plaza de San Sebastián in La Caleta, where the Bishop of Tenerife, Bernardo Álvarez, together with the parish priests of the municipality, officiated the solemn mass, sung by Los Sabandeños.
Finally, at seven o'clock this afternoon, the image of the Incarnation will be returned from its hermitage in San Sebastián to the parish in the town centre of Santa Úrsula, ending the extraordinary prayer.
Other articles that may interest you...