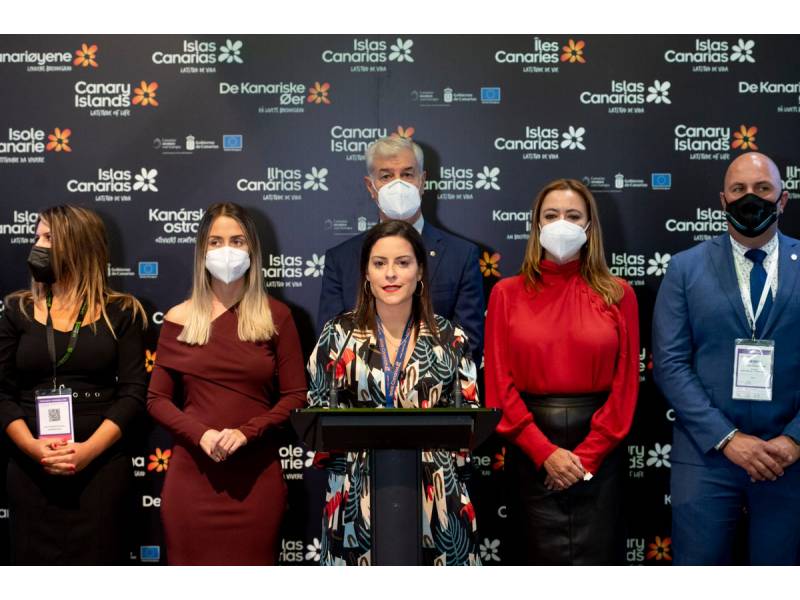 Flights from the UK to the Canary Islands will increase by 12.5% over the winter
Flights to the Canary Islands from the United Kingdom will increase by 12.5% ​​in the winter season, which will lead to a speedy recovery of the British market in the archipelago, as announced by the Minister of Tourism for the Canary Islands, Yaiza Castilla, at the start of the World Travel Market in London yesterday (Monday).
Castilla made these statements during the inauguration of the archipelago's stand at the tourist fair, where she stressed that the British market is of the highest importance for the islands, supplying more tourists than any other.
She said that the increase in the number of flights shows that the British really want to travel and escape their cold weather and that only in a destination like the Canary Islands "will they be able to find a great climate and enjoy beautiful beaches and landscapes in the open air in the middle of winter".
By islands, Lanzarote will have the greatest increase in flights from the UK, with 18.8% more, followed by Fuerteventura (16.2%) and Gran Canaria (15.9%), in addition to Tenerife South (7.5%). La Palma is the only one in which the number of British flights has decreased (-47%) due to the eruption of the volcano.
However, Castilla stressed that this growth in flights during winter does not belong exclusively to the British. "Flight schedules for our high season have grown by 14.5% compared to 2019, the year before the pandemic, which shows us that we continue to be in the 'forefront of peoples mind' when it comes to deciding where to go on holiday," she assured, adding that flights are to increase from Germany by 23.6% compared to the winter of 2019-2020.
The councillor reminded that Canary Islands Tourism has launched three important lines of aid to increase the number of flights to the islands, of almost one million euros in November last year, and half a million euros for April and May this year.
The latter are valued at 2,150,000 euros (extendable to five million) "and for these, 36 applications have been submitted by airlines, a very considerable number that is double that of previous calls and demonstrates the success they have among airlines with this type of initiative ", she stated.
Other articles that may interest you...