ABTA report shows that Brits will sacrifice other things to go on holidays in 2024
Spring has now become the favourite time of year for Britons to travel, according to the latest Holiday Habits report from the Association of British Travel Agents and Tour Operators (ABTA). The report confirms a strong demand for foreign travel, despite the rising cost of living, and while 52% of the UK population took holidays abroad between August 2022 and August 2023, the forecasts for the next year are even higher, rising to 64%.
ABTA's data also shows that holidays will continue to be a spending priority for the upcoming year compared to other sectors. People plan to reduce other non-essential expenses such as eating out (57%), leisure activities (46%), and clothing, shoes, and accessories (42%) before cutting back on their holidays (34%).
Most people (51%) plan to spend the same amount of money on trips away in the next year as they did in the last 12 months, and a significant proportion (28%) plan to spend more.
However, they do believe they will have to make certain changes to their holiday habits, such as taking fewer days off (22%), booking cheaper accommodations (21%), and dining out less (17%).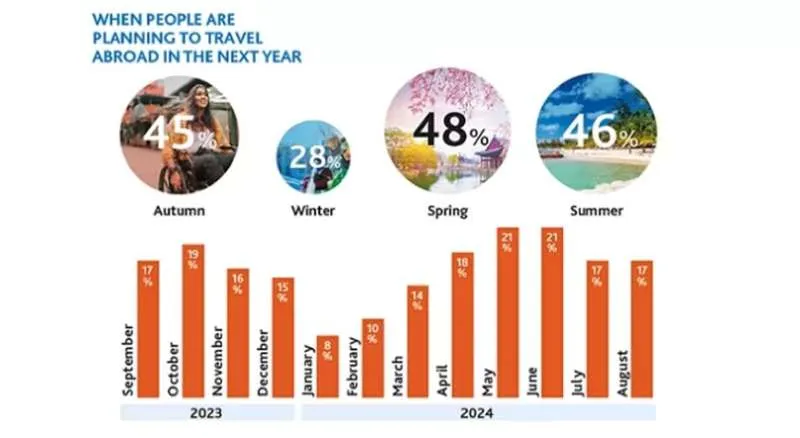 More Destinations for Off-Peak Travel:
In their search for good value for money, off-peak travel plays a crucial role. ABTA's study suggests that May and June will be the most popular months for overseas getaways, surpassing October (19%), July (17%), and August (17%).
In anticipation, many ABTA members have extended the seasons in certain destinations like Benidorm and the Balearic Islands and have added capacity during the spring months.
Other articles that may interest you...