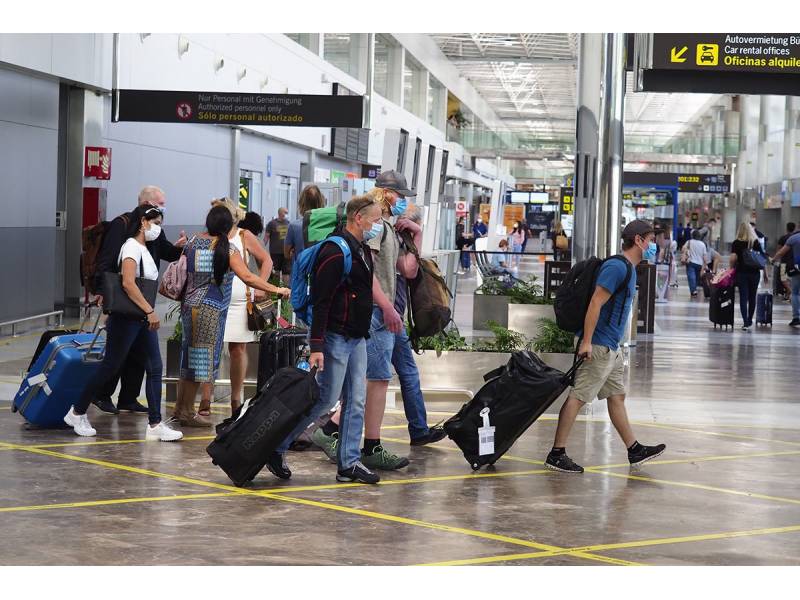 Tourism in the Canary Islands reactivated in September with 500,000 more arrivals
The reactivation of international tourism in the Canary Islands is beginning to be confirmed in concrete figures with a 517% increase in arrivals in September this year compared to last year. According to data from Turespaña published yesterday, last month 613,951 foreign passengers arrived in the islands compared to 99,443 who did so in 2020.
The figures are still far from those of 2019, before the Covid pandemic, but the trend is continuing upwards and everything indicates that in a few months the numbers of 2019 will be reached. In comparison between this September and September 2019, there are 336,408 passengers less this year, a difference of 36%.
The improvement in September, undoubtedly the month with the highest growth in international arrivals since Covid broke out, was supported by traditional airlines. Through them, 311,646 people arrived to the archipelago, 780% more than in 2020, while 302,305 passengers did so through budget ones, with an increase of 372%. The low-cost airlines are the ones that have suffered the most from the consequences of the pandemic.
If we rank the airports in order with the highest volume of foreign travellers, Tenerife South airport was the leader in the Canary Islands with 237,865 passengers (compared to 49,801 in September 2020, and 358,705 in 2019). Next came Gran Canaria with 154,035 and in third position, Fuerteventura with 109,944.
Septembers data helps to reduce the deficit of international passengers so far this year compared to 2020 when January and February were very good months. The difference is 29%, in a million passengers. Compared to 2019, the distance is greater, at 79%. In the first nine months of the year, 3.3 million travellers arrived on the islands this year compared to 9.7 million in 2019.
The Minister of Tourism for Spain, Reyes Maroto, highlighted yesterday that these figures reflect that Spain is going "in the right direction" and that the recovery of the Spanish tourism sector is "solid, consolidating month by month with the official data that they are publishing."
She said that "the increase in arrivals from the main issuing countries shows that Spain is perceived as a safe and quality destination where you can enjoy a few days of rest."
In her opinion, this has been possible thanks to the success of the vaccination campaign, which has allowed a number of "certainties" to the international traveller, as well as the use of the EU-Covid digital certificate, the efforts of the Spanish tourism sector, and the success of the promotional campaign deployed by Turespaña and the offices abroad.