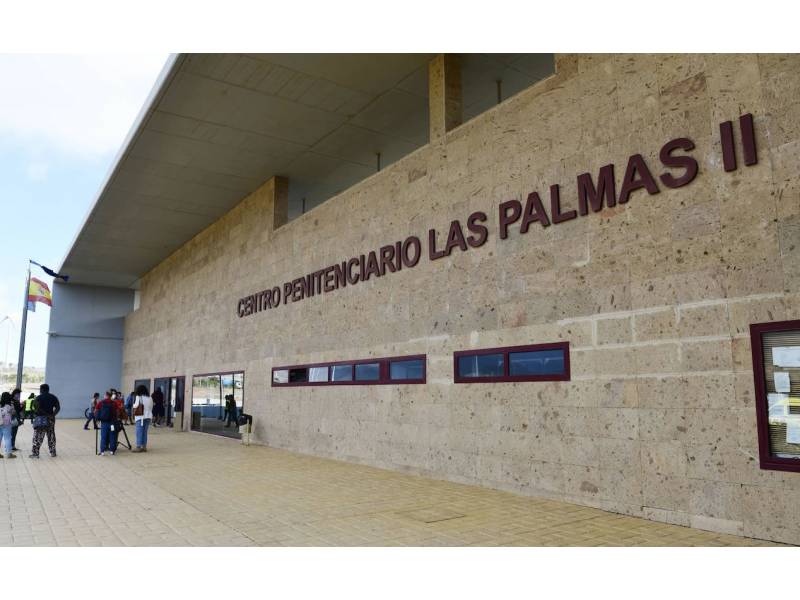 Prisoner assaults guard in Gran Canaria: 'I'm going to kill you, I'm a hitman'
Another prisoner has attacked guards at the Las Palmas II Penitentiary in Juan Grande in Gran Canaria. On this occasion, the inmate punched a prison officer when he was going to dinner on Monday evening and tried to stab him with a skewer that he had hidden in his pocket. When he had been reduced, they took him to the isolation unit and there he threatened the officials with death again, shouting "I'm going to cut his throat, I'm going to kill him," and "They don't know me, I'm a hit man."
It is the umpteenth aggression carried out by inmates to officials in the southern penitentiary centre and on this occasion, the events occurred in module 14, which is intended for especially conflictive prisoners.
The incident happened at dinner time, when an official told an inmate of South American origin who was residing in Fuerteventura, that it was his turn to go in for dinner. He initially refused to go, but after a few minutes, entered the dining room. As he passed the official, he gave him a push and swore at him. After this, and for the security of the module, the guards of the centre told him that they were going to search him and, without warning, the prisoner punched the official in the face and head butted him, knocking him to the ground.
As this happened the inmate took out a sharp object from his pocket and jumped on him shouting "I'm going to kill you, you son of a bitch!", while hitting him several more times. The rest of the officials tried to reduce the man, but he resisted kicking out and punching wildly while he continued to issue death threats towards the officials. After calling for back up a group of officials arrived at the scene of the attack and managed to reduce the inmate, transferring him to the isolation module.
Other articles that may interest you...
But the situation did not end there, upon entering isolation module 17, the inmate began to shout "I'm going to kill you when I get out here. Today I punched that shitty pimp, but tomorrow, when I catch him again in module 14 ... I'm going to cut his throat with a can, it's a promise."
The inmate, who was handcuffed, kicked out at officials again hitting one of them in the chest, for which they had to lower him to the ground again. This new show of aggression has once again highlighted the problems that Las Palmas II officials are suffering on a daily basis, and that have sadly ended with several of them on medical leave due to injuries they have suffered.