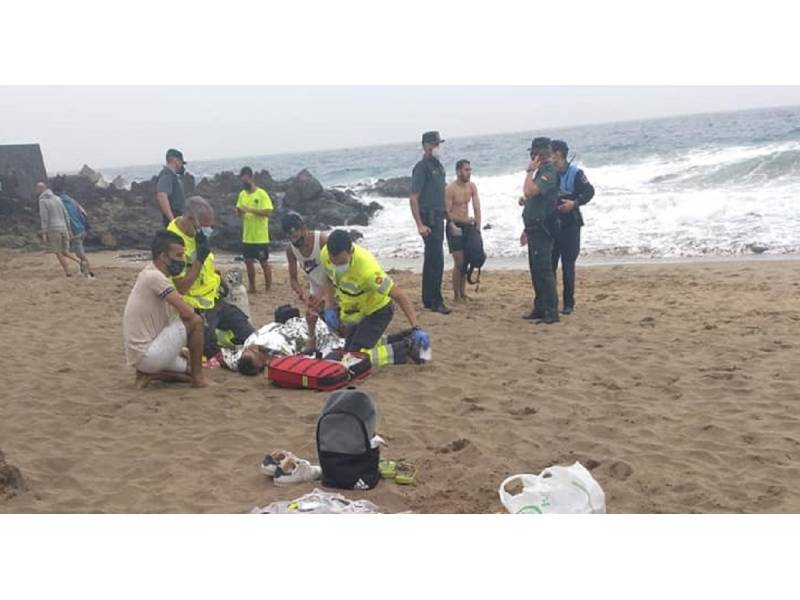 Heroic act of two young Maghrebis who rescued a British swimmer in distress
Two young Maghrebis came to the rescue of a British female swimmer on Saturday afternoon, who couldn't get out of the water due to the strong waves which were dragging her further and further from the coast, in front of the Fariones hotel in Playa Del Carmen in Lanzarote.
A man who witnessed the rescue said, "there were two British women in the water, and from one moment to another the current wouldn't let them get out of the water on to land", noting that "one eventually managed to get out, but the other was moving further and further from the coast."
As reported by Lancelot Digital , when the man was about to call 112, "two young Maghrebis ran into the water, never separating, until they managed to take the woman to the dock area and carry her up the rocks while the waves were breaking on them".
As they did this, the entire beach applauded their act of bravery, and in the meantime an SUC ambulance had been called which not only attended to the two women, but also to one of the rescuers who was injured after being hit against the rocks by the power of the sea.
Without the intervention of these two young men, witnesses have all said: "that the woman would most certainly have drowned", and added that they had "risked their own lives to save that of a stranger without hesitating for a second."
The two men who made the rescue don't actually know each other, and are both legal residents in Lanzarote with full paperwork looking for employment. Some of the witnesses of the rescue have set up a Go Fund Me page to support the two men after their act of bravery.