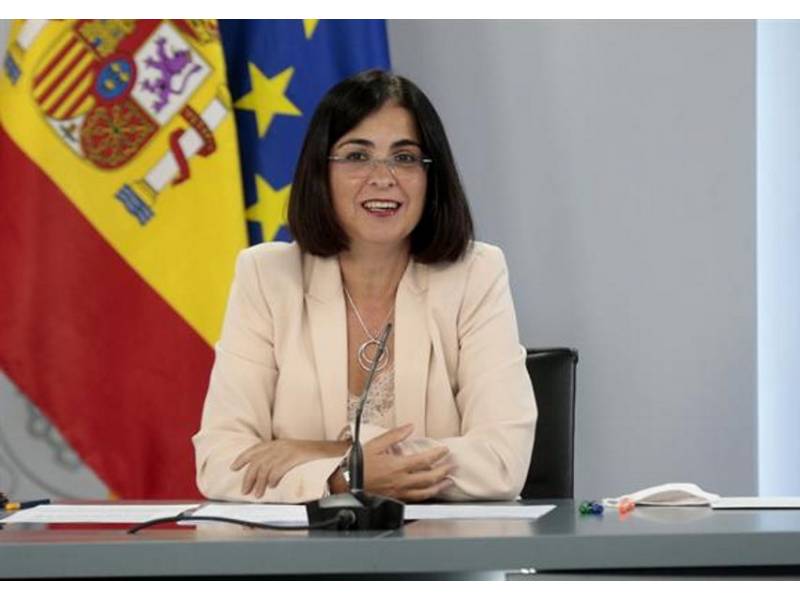 DARIAS: 'Those who are selfishly not getting vaccinated need think of others'
The Minister of Health for Spain, Carolina Darias, has a special affection for the Canary Islands as she was born and brought up in Gran Canaria, and went to university in Tenerife, and is the highest-ranking Minister in central Government from the islands. This week she was in Las Palmas and spoke with Canarias 7 about the evolution of the coronavirus in Spain, how we can contain and beat it, and why she says: "To those who are selfishly not going to be vaccinated, I tell them to think of others".
Darias insists over and over again that the binomial vaccination-culture of care is the formula to keep the coronavirus at bay in Spain, where the pandemic situation is "reasonable" against the sixth wave that is hitting Europe, thanks to the wide immunization against Covid by the Spanish population but requests that everyone act responsibly and get jabbed.
Q: Two weeks ago you declared that, with prudence, the virus was cornered in Spain. Can you say the same now, with the incidence of infections on the rise across the country and the sixth wave hitting Europe?
Darias: "The virus is here, I have always said it, that it is still on the lookout for those who do not protect themselves and I will repeat it ad nauseam. Since this pandemic began, we have learned, first, how to control it, to know how we can keep it at bay more effectively, but given the growth that is taking place in neighbouring countries, we have to continue keeping it at bay. The virus will always be on the prowl, first for those who have not been vaccinated, who are in the minority because we have spectacular vaccination data. The virus must not be underestimated; we must continue to corner it as much as we can and more."
Q: Various regions are requesting the use of the Covid certificate to access interiors to stop this rebound in cases. Do you think that the restrictions should go in this direction, limit the movement of unvaccinated people, and encourage them to get inoculated?
Darias: "I think that what needs to be done are two parallel and non-exclusive things, which need a perfect symbiosis, first to continue vaccinating those who have not done so yet, to continue with the booster doses, and continue being careful and following restrictions, because vaccines protect us against infections, hospitalizations and deaths, but they do not guarantee that we do not get infected."
Q: But do you agree with the requirement of the covid certificate? You insist that it is a decision of the autonomous communities, to which you tell them that the Supreme Court has opened the door to this restriction.
Darias: "Let's see, it's something I say a lot and it works for this case. When we entered this pandemic, no country was prepared and we have been designing that navigation chart, and this Government will leave a mapping on how to act in the face of a pandemic for future governments and for future crises. The EMA is being strengthened, Spain is strengthening and renewing its entire public health surveillance system, but it is true that we must continue. The Supreme Court has opened a legal path and it is the regions that have to decide it based on their own epidemiological situation. But more than restrictions, what we have to see is how we have to behave in those spaces where there is a greater tendency for the virus to spread so that it does not occur. I speak of habits that are here and have come to stay, such as the use of masks indoors or when there are crowds of people, because they protect us against Covid. Now comes a season of increase in respiratory viruses, the flu is beginning to occur, which last year there was almost none. The message that I emphasize is that we cannot lower our guard, we are practically back to normal, as we are almost leading a normal life, but it is true that outbreaks have their greatest role in social and family environments, which is where we relax the most, therefore I appeal to the culture of people being careful."
Q: Do you think we are leading a more normal life than the pandemic situation indicates?
Darias: "No, the levels of indicators say that we have a reasonable situation, but it is true that we must take into account that we are in a change in trend, that some indicators are rising, but the analysis must be focused on the occupation of hospital beds and of ICU beds."
Q: Does this mean that the Covid traffic light system will change? Do you no longer have to focus on the number of infections?
Darias: "Spain is in a totally different situation from the rest of Europe, where there are countries with incidents of over 1,000 cases. With the high level of vaccination coverage that we have, we must take a different look at the different indicators that tell us about the risk from Covid. The cumulative incidence is an important indicator, which has been important throughout the pandemic, but now we must emphasize others such as positivity rates, but especially those that are more sensitive to the health system, such as the percentage of occupation of hospital beds and ICU beds by Covid patients, and so far, despite the increase in incidence, these indicators have a reasonable behaviour."
Q: The Vaccine Conference has just proposed the booster jab for those in their 60s and health personnel. What is the roadmap with the third dose?
Darias: "The Vaccine Report is continuously under review and the Public Health Commission values ​​its proposals, and it is not going to stop. First, there were the immune-compromised people, the elderly from nursing homes, a very vulnerable population, and then people with pathologies, and now we are with the elderly in their 70s, in addition to the population vaccinated with the Janssen single-dose vaccine. We have carried out a study from the Ministry with the Carlos III Institute and the Spanish Medicines Agency on the effectiveness of vaccines since they began to be inoculated in December, and we have been able to monitor their effectiveness from day one. The first conclusion is that the four vaccines that we are using have very wide protection against Covid of over 80% efficacy, especially intense in the face of hospitalizations and deaths. But against the infection they have different effectiveness, the one that had the least was Janssen and that is why we have already started vaccinating with the booster. The second is AstraZeneca, with which the majority of people between 60 and 69 years old were vaccinated."
Q: When do you plan to vaccinate children from 5 to 11 years old?
Darias: "We are waiting for the European Medicines Agency to give the corresponding authorization, which could be this month, and from then we will be ready for the Vaccine Report to assess it and make the proposal. What I would like to highlight is that Spain is a leading country and a benchmark in vaccination, and that has to do with the strength of our national health system, with the importance of Europe in centralized purchasing, but it is true that we are far above the rest and that is due to the strength of our system, the leadership of the Government of Spain, recognized by the WHO, and above all because of the role of the autonomous communities, and the Canary Islands is one of those that has stood out for its application, and of course by the health personnel."
Q: What would you say to those who have not been vaccinated?
Darias: "We have come this far due to the collective effort of all, especially by the citizens of our country, who have shown great responsibility and great awareness with the harsh measures that we have had to take, with great impact, affecting what made us more human, social relations. They have had exemplary behaviour, especially with vaccination, because each person who is gets vaccinated, which is a right, also does so out of an obligation to himself and to others. To those people who selfishly are not going to get vaccinated, I say 'don't think of yourself, think of others', because they have exemplary behaviour with you and it is now your turn to do the same. That is solidarity, cohesion."
Q: The courts have rejected numerous restrictions approved by the regional Governments to avoid contagion. Do you think that the TSJC has been an ally to combat the pandemic?
Darias: "The ally for us is science, innovation, people who are part of the national health system that has proven essential behaviour. What I would tell you is that we must go hand in hand with science, which is our best ally to defeat this damn virus once and for all."
Q: About your own political future, do you see yourself as a future socialist candidate for the City Council of Las Palmas de Gran Canaria?
Darias: "No. I see myself wherever the Prime Minister wants me to be."