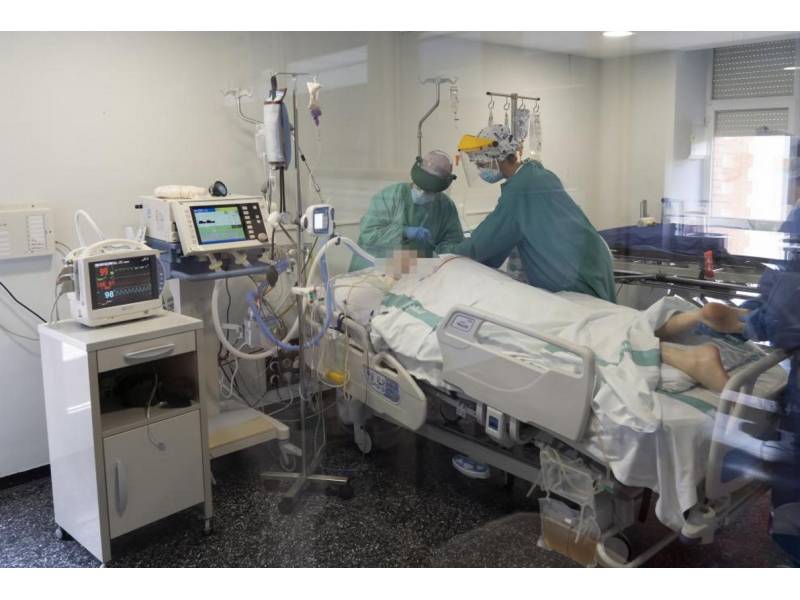 Covid update: New cases continue to increase with 2,670 in the Canaries today
The latest data from the Ministry of Health reports of 2,670 new cases of Covid in the Canary Islands today, which takes the total number of cases to 122,875 since the pandemic began. There are currently 19,054 active cases in the islands and Tenerife has the most with 11,392, of which 1,365 are in the south of the island, highlighting that the problem is mainly in high population areas of residents, not where tourists are, which is exactly what the vice president said last week.
Of the new cases 1,736 are in Tenerife, 662 are in Gran Canaria, 121 are in Lanzarote, 84 are in Fuerteventura, 36 are in La Palma, 19 are in La Gomera, and 12 are in El Hierro.
The incidence rates for the islands as a whole are continuing to go up, and the IA7 for the Canaries is now 541.97, Tenerife highest island at 846.54, and the IA14 is now 751.21, again Tenerife is the highest island at 1,104.56. This is only the second time during the pandemic that one of the islands has exceeded 1,000 after El Hierro did earlier in the year, although that wasn't a real concern because of the size of the population on that island (11,147 people), whereas in Tenerife, it is.
However, the most concerning increase, which highlights the contagiousness of the omicron variant, is that of the R rate. It has now increased to 1.76, (which as an average of all variants and allows for vaccination) as more omicron cases are filtering in, the highest it has been since August 2020 when the second wave was hitting the islands.
As the Omicron variant is surging around Europe, the R rate is estimated at about seven, which means in the absence of vaccines and isolation, a single infected person would infect on average seven others, but as vaccination programmes push on and the virus continues to spread, immunity to coronavirus will drive the R rate down, but we have to act now which is why governments are making the decisions they are.
People always ask "Why is coronavirus more lethal than flu?"Simple, it is mainly because vulnerability to the disease rockets in older people, but as it is mutating it is affecting those younger as well. In England, seasonal influenza killed an estimated 44,505 people during the three combined flu seasons from 2015-16, 2,016-17, and 2017-18. That number died from Covid in England in the first nine weeks of 2021.
To put this in perspective, the R rate for common flu is approximately 1.3 (with vaccines etc), and for omicron it is approximately 7. By starting with one infected person who infects 1.3 people, and those 1.3 infect another 1.3 and so on, here is the comparison of the spread of the viruses after 10 levels:
Flu: 1x1.3x1.3x1.3x1.3 x1.3x1.3x1.3x1.3x1.3 = 10.6 people infected from 1 person.
Omicron: 1x7x7x7x7x7x7x7x7x7 = 40,353 people infected from 1 person.
A major difference is that the flu figure takes into account the protection of influenza vaccines, where 50% effectiveness is considered good and they are only recommended to those over 65 and under 2 years of age.
Coronavirus vaccines are having a greater proportional impact on reducing Covid deaths. So far, the most common Covid vaccines used, Pfizer and Moderna, reduce the risk of hospitalisation from Covid by more than 90%. As a result, the vaccination programme has driven Covid deaths down substantially, and is why vaccination for everyone is necessary and the booster is essential against Omicron.
Data for Wednesday 22nd December 2021:
(updates are against yesterday's figures)
New cases: 2,670
Tenerife: 1,736
Gran Canaria: 662
Lanzarote: 121
Fuerteventura: 84
La Palma: 36
La Gomera: 19
El Hierro: 12
Current Incidence rate (IA7): 541.97
(Cases last 7 days: 11,812)
Tenerife: 846.54
Fuerteventura: 375.00
Gran Canaria: 319.22
Lanzarote: 309.35
La Gomera: 278.10
La Palma: 210.88
Current Incidence rate (IA14): 751.21
(Cases last 14 days: 16,359)
Tenerife: 1,104.56
Fuerteventura: 700.73
Gran Canaria: 488.24
Lanzarote: 456.32
El Hierro: 376.78
La Gomera: 336.75
La Palma: 293.56
General:
Covid patients in hospital: 294 (+3)
Covid patients in ICU: 58 (-1)
Home isolation: 18,702
R number: 1.76 (needs to be below 1)
PCR test positivity rate: 16.59% (should be below 4.5%)

Vaccination:
Total administered: 3,637,106
Fully vaccinated: 1,683,998 people (80.28%*)
One dose: 1,743,020 people (83.09%*)
Children aged 5-11: 20,027 (14.63%)
Booster doses: 357,197
*population target has been adjusted to include everyone over 5 years old.

Deaths last 24 hours: 3
Tenerife: 2 (617)
Gran Canaria: 1 (377)
Total deaths: 1,096

Medical Discharges in last 24 hours: 252
Tenerife: 128
Gran Canaria: 103
Lanzarote: 15
La Palma: 5
Fuerteventura: 1
La Gomera: 0
El Hierro: 0

Total Active cases per island:
Total: 19,054
Tenerife: 11,392 (+1606)
Gran Canaria: 5,332 (+558)
Fuerteventura: 1,378 (+83)
Lanzarote: 624 (+106)
La Palma: 217 (+31)
La Gomera: 72 (+19)
El Hierro: 39 (+12)
Municipalities with most active cases in each island:
5,144 in Santa Cruz (Tenerife)
4,394 in Las Palmas (Gran Canaria)
2,627 in La Laguna (Tenerife)
758 in Puerto del Rosario (Fuerteventura)
509 in Arrecife (Lanzarote)
445 in Arona (Tenerife)
433 in La Oliva (Fuerteventura)
373 in Adeje (Tenerife)
313 in Granadilla de Abona (Tenerife)
294 in Puerto de La Cruz (Tenerife)
206 in Telde (Gran Canaria)
197 in San Bartolomé de Tirajana (Gran Canaria)
171 in Santa Lucia de Tirajana (Gran Canaria)
132 in Guia de Isora (Tenerife)
51 in San Miguel de Abona (Tenerife)
50 in Santiago del Teide (Tenerife)
30 in Mogán (Gran Canaria)
(Please note this is not all municipalities, it represents the most infected and tourist areas)